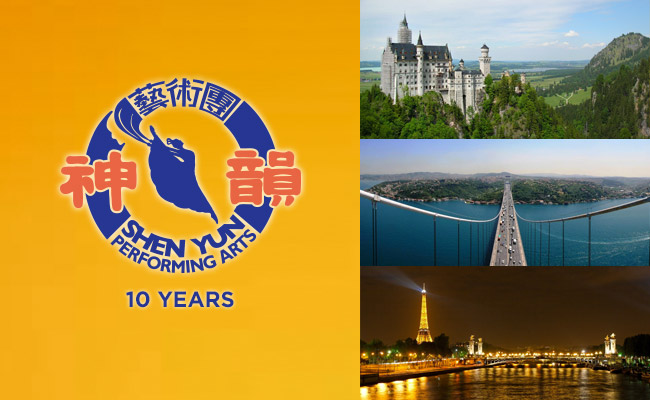 Globetrotting Ventures Tenfold
Flying back to New York at the end of every tour, there's always one small dilemma—that tiny box on the customs declaration form for countries visited.
One year, I used my tiniest handwriting to squeeze in as many as I could. Meanwhile, my seatmate simply wrote "every major country in Europe except Spain." (This was before our debut in Barcelona three seasons ago.)
Decade of Shen Yun
Next Tuesday in Suwon, South Korea, Shen Yun World Company will load out for the last time this tour. After five months and 122 shows, it'll finally be time to head home. And Shen Yun 2016, our tenth season, will be over.
Happy birthday or happy anniversary? Either way, it's a momentous occasion that makes me inevitably contemplative and nostalgic.
Ten years ago, we were introduced to the world and the world to us. In our first tour, every time was the first time. And now how many firsts have we had?
Ten seasons later, Shen Yun has performed in almost 200 different cities across five continents. My passport (replaced again and again) is filled with stamps and visas of all shapes and colors from crossing countless borders by plane, bus, and ship.
And traveling to so many special places, we definitely explore beyond the theater walls.
Offstage Adventures
Between performances, we explore our host cities as much as we can. The Eiffel Tower, Gateway Arch, and countless museums are some of more typical tourist destinations we visited. However, remarkable adventures occurred in more eccentric places:
Slipping past the "UNFALLGEFAHR: DANGER AHEAD" sign behind Neuschwanstein Castle in the mountains of Bavaria, we climbed for hours up frozen slopes to watch the sunset from a rickety hanging bridge spanning a dizzying chasm. By then my toes had long gone numb. But in the presence of that resplendent sight, even fear of frostbite could be forgotten.
At an outback sanctuary Down Under, we watched in mirth and incredulity as a couple of our guys beat their personal sprinting records. How? There's no dawdling when you're being hunted down by emus that finally had enough. (Mandate: don't chase those you don't want to be chased by.)
In Istanbul, we sampled delectable Turkish pastries and freshly brewed çay as our boat drifted down the Bosphorus Strait. Europe was on our left, Asia on our right, and dome-y mosques lining the banks reached minarets toward the sky. We met a young girl aboard. Ayda's half Chinese and half Turkish, and her name means "benefit" in Arabic. Always eager and smiling, she was a precious insight into that exotic land of sesame simits and pashmina shawls. Our own little Turkish delight.
I've broken bread with Scandinavian truckers on an overnight ferry crossing the Baltic. I've shared laughs with bike-riding sumo wrestlers outside 7-Eleven, Tokyo. I've felt the sand between my toes from Waikiki to the Gold Coast. I've put my hands over the 18,000,000 golden tiles of the mosaic at Stockholm's Gyllene salen—and imagined the Nobel laureates there, partying with style.
Worldly Wise
Throughout tour, I try to stick to my books, but every day the world kept taking over as my ultimate tutor:
The first time I saw penguins in their natural habitat was on—no, we haven't performed in Antarctica yet—Phillip Island, Australia. The guides at the conservation center taught us the importance of endangered species protection. Also that flash photography scares the little penguins coming back ashore, and makes them throw up a hard-earned supper.
Once, after finishing our performances in the City of Light, we enjoyed a moonlit cruise down the Seine. Our local guide, ever so passionate, took it upon himself to narrate the entire Napoleonic history. It was quite a one-man show, made all the more dramatic with his brandishing of a swashbuckling banana.
In the Piazza della Signoria, bronze and marble statues staged scenes from ancient mythology. Perseus slayed Medusa. Hercules conquered the fire-breathed Cacus. Still, we licked away at heaping cones of creamy Florentine gelato, intrigued yet stomachs un-churned by the surrounding gore.
Even on the tour bus, we were absorbing tidbits of knowledge. In Europe one year, our drivers volunteered to teach us Vocab of the Day in their native Hungarian. For three whole months, our custom morning greeting was a hearty "jó reggelt!"
Give and Receive
Do you ever wake up and forget where you are? What city did we just come from? Where are we going again? Uh, we don't live on the sixth floor—that was yesterday's hotel... Well, when you're on the road half the year, hopping through three cities a week, sometimes it's hard to keep track.
Looking back at the last ten years' journeys, the most cherished souvenirs I collected were not graffiti-ed pieces of the Berlin Wall or Chilean lama wool leg warmers. Instead, they were the things I've learned, memories I've made, people I've befriended, and adventures I've had—precious snippets that have given me the experience of a lifetime.
As we dance to bring traditional Chinese culture to the world, the world has unfurled its own beauty and heritage in front of us. We've seen so much along the way.
During a long road trip across Japan, we were treated to a special vista. For a great length of the drive, Mount Fuji sat in the distance emanating quiet vibes of mystical oriental glory. Hours later, the now-familiar image became almost like a classroom poster. So time and again I had to remind myself: "This is the real thing!"
I've taken hundreds of pictures with my camera, but millions of unforgettable moments are forever captured in my heart. And I can't begin to imagine what's still waiting to come.

04 de maio de 2016