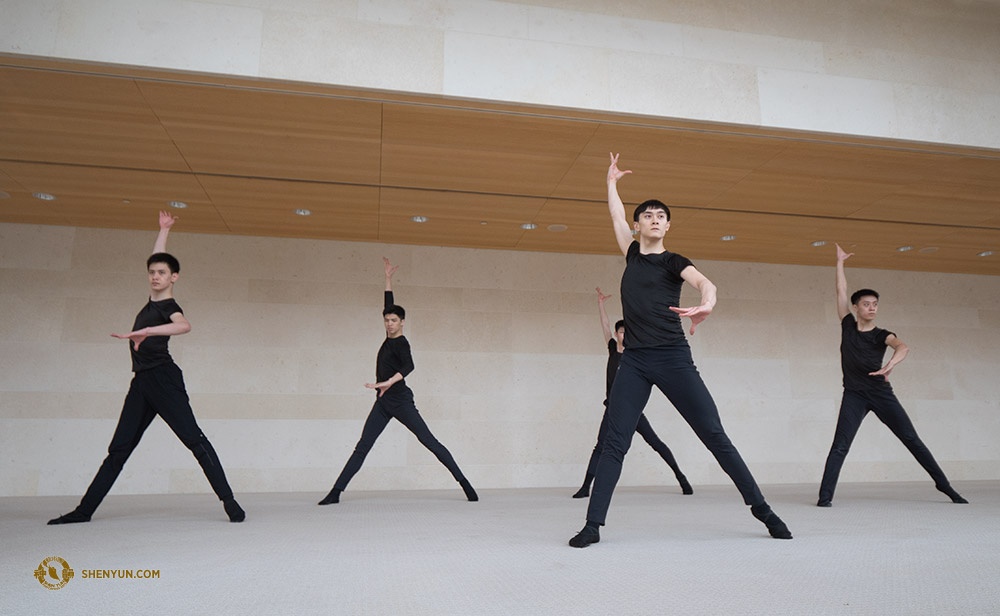 Diário da turnê
Uma postagem por dia de todos os dias da turnê. Há muito o que escrever? Teremos que descobrir. Por favor, deixe um comentário no final. Espero que goste!
25 de dezembro: Vamos para a estrada!

Feliz Natal e Feliz Hanukkah! Hoje também é o nosso grande dia—esta manhã nos despedimos de nossas famílias, colocamos coisas nos ônibus para cinco meses e pegamos a estrada. Pela primeira vez, três de nossas sete companhias partiram exatamente ao mesmo tempo—uma para Stamford, Connecticut, uma para Dallas, Texas, e estamos indo ao norte da fronteira para Ottawa. É uma linda manhã de Natal, céu azul e simplesmente adorável estar ao ar livre ou no ônibus. Noite de abertura amanhã—mal posso esperar!

26 de dezembro: Noite de abertura

Em algumas horas, este teatro estará cheio de pessoas e energia e emoção e dança e música e cores. Primeira preparação em turnê aqui no National Arts Centre em Ottawa e eu já aprendi algo novo—um teatro canadense usa uma vassoura de curling... Eles a usam para colar o piso de dança Marley.

27 de dezembro: Recapitulação da estreia da temporada

O primeiro show foi ótimo! É sempre bom começar e voltar a encarar o público dia após dia. O público aqui em Ottawa adorou especialmente algumas das histórias engraçadas e algumas das surpresas na projeção animada, assim como nossa soprano, Jiang Min. Uma ótima maneira de começar a turnê. Indo para o teatro agora para uma matinê.

28 de dezembro: Entre dois shows

Nosso primeiro dia de dois shows do ano. Agora estamos entre os shows, e neste momento os artistas podem ser divididos em dois grupos: aqueles que primeiro cochilam, depois meditam; e aqueles que primeiro meditam, depois cochilam.

29 de dezembro: É pouco de alongamento

Acabo de chegar a Hamilton depois de uma viagem chuvosa por Ontário. O que os dançarinos do Shen Yun fazem assim que chegam ao hotel depois de horas no ônibus? Pegam qualquer móvel que puderem encontrar e se alongam.

30 de dezembro: Vista do foço da orquestra


Um novo dia em um novo teatro, bem teatro aqui: FirstOntario Concert Hall em Hamilton. A cada novo local, além da preparação e passagem de som, a orquestra ensaia com os dançarinos. O maestro Milen Nachev está de olho na orquestra e na ação que ele deve combinar no palco.

31 de dezembro: Vídeo de Feliz Ano Novo


Véspera de Ano Novo... e acabamos de terminar uma apresentação matinê em Hamilton, Ontário. É uma tradição do Shen Yun que todos os artistas participem em atacar após uma apresentação—desmontando o palco, empacotando as roupas e o equipamento e carregando o caminhão. Isso nos permite encerrar rapidamente e sermos super móveis, chegando a mais cidades em turnê. Também mantém todos, mesmo as maiores estrelas, humildes.

O ataque de hoje parece muito festivo. Afinal, acabamos de completar o último show do ano. Em breve, os artistas estarão em seus telefones ligando para a família em casa e amigos em outros grupos ao redor do mundo. Mas, primeiro, eles têm uma mensagem para vocês no vídeo: Feliz Ano Novo! Que você e os seus tenham um 2020 maravilhoso, seguro e significativo!

1 de janeiro: Dois MCs, três idiomas em Montreal

Acabei de chegar na bela Montreal. Um pouco de nevasca no caminho, mas no geral tivemos um clima excelente para um inverno canadense até agora.

Sempre que trocamos de cidade e local, isso pode realmente afetar um pouco. Uma diferença de alguns metros na largura do palco pode alterar as formações de dança. O tamanho e a forma de um fosso de orquestra influenciam como os músicos ouvem uns aos outros.

Para os MCs, o Leste do Canadá apresenta um conjunto único de desafios.

Em Ottawa, falamos principalmente inglês. Mas por ser a capital e perto das regiões de língua francesa, incluímos também um pouco de francês e, sendo uma produção chinesa, tínhamos que ter chineses. Portanto, o roteiro era algo como 50% inglês, 25% chinês, 25% francês. Então, para Ottawa, fiz parceria com Catherine Fang, que fez o francês, enquanto fiz a maior parte do inglês em chinês.

Depois, em Hamilton, reencontrei minha parceira regular, Alice Liu, e fizemos o script inglês-chinês de costume.

Agora, na Montreal, predominantemente de língua francesa,, Catherine estará de volta ao palco e, desta vez, o roteiro será 50% francês, 25% inglês e 25% chinês.

O desafio de dizer três roteiros diferentes em três cidades consecutivas para começar a turnê é manter o controle de qual versão você deve dizer quando.

Lembro-me da primeira vez que fizemos um roteiro trilíngue. Foi muito ad hoc. Foi nossa primeira apresentação em Montreal no início de 2007, e eu estava a apenas 10 dias de me tornar um MC profissional. Minha parceira e eu tínhamos preparado um roteiro em francês e chinês, com ela fazendo o francês e eu fazendo as partes chinesas. Então, durante o intervalo, o apresentador local veio até nós nos bastidores. "Sinto muito", disse ele, "mas temos muitos membros da audiência que vieram de uma cidade próxima onde, na verdade, só falam inglês e estão tendo dificuldade em acompanhá-lo. Você poderia acrescentar um pouco de inglês?"

Poucos minutos antes do início da segunda parte, não tivemos tempo de reorganizar tudo o que íamos dizer. Não tivemos tempo para ensaiar. Então, nos segundos antes de entrar no palco a cada vez, olhávamos um para o outro e diríamos: "Ok, eu-inglês, você-francês, eu-chinês, eu-inglês, você-francês, eu-inglês. Vá!" E assim continuamos.

Apresentações trilíngues agora são uma parte comum de nossas apresentações, não apenas no Canadá. Enquanto escrevo isso, outro de nossos MCs está fazendo o mesmo no Japão e outro na Suécia. Fazemos isso há anos. Mesmo assim, é melhor eu ter uma boa noite de sono.

2 de janeiro: O camarim ideal

Agora estamos nos preparando para nossa primeira apresentação na recém-reformada Place des Arts. Enquanto a orquestra e os dançarinos ensaiam e eu tenho um momento de silêncio no camarim, percebo que eles realmente se esforçaram nos camarins. Se alguém precisava de um modelo do que um camarim deveria incluir, esse é o camarim—compartilhado pelo maestro e por mim.


Ele começa com o código na porta para segurança extra. Entre em uma ampla sala de última geração, preparada para duas pessoas, com (no nosso caso) prateleiras para fantasias, duas bancadas de granito, dois conjuntos de espelhos emoldurados por luminárias, divididos por outro espelho acima da pia. A torneira cromada permite que você controle a água quente (o que você definitivamente não pode desvalorizar com todas aquelas torneiras ativadas por sensor que ajudam a economizar água, mas não ajudam a barbear). O banheiro recém-reformado possui uma pia separada (com o sensor) que permite o uso duplo de pias em momentos críticos antes do show, bem como um chuveiro e ladrilhos de carvão. O chão é acarpetado em um sutil tema retro dos anos 70. Armários Califórnia e uma elegante mesa de centro de vidro combinam com o sofá exuberante que tem o comprimento certo para se deitar. Um dial modera o volume do feed do palco, e um enorme relógio digital vermelho torna impossível não saber quando é a hora de estar em algum lugar. Por fim, um piano, embora desperdiçado comigo, torna-o uma sala perfeita para o nosso maestro, que é conhecido por compor novas melodias enquanto apenas tocava no camarim Yamaha. Quero embalar este camarim e levá-lo conosco na turnê.

3 de janeiro: Dia favorito

A maioria das pessoas tem um dia favorito na turnê. Provavelmente o dia de folga é popular (ou talvez universal). Não há muitos deles, portanto, é melhor não se apegar muito.

Nunca ouvi ninguém dizer que seu dia favorito é o dia da preparação. Dependendo do seu papel, esses dias podem durar 16 horas—desde a chegada mais cedo ao teatro até a passagem de som, os ensaios, uma apresentação e o retorno ao hotel. O maior dia de preparação é o dia de preparação-apresentação-ataque. Esses podem acontecer algumas vezes por temporada e, para os envolvidos na produção, vai das 7h30 à meia-noite. Falando historicamente, tivemos até um punhado de dias de preparação-duas apresentaçoes-ataque. Esses gigantes geralmente envolviam entrar no teatro à 1h da manhã, preparar até por volta do meio-dia, fazer duas apresentações, seguido de ataque. Lembro que fizemos um em Praga e outro em Dublin, que foi seguido por uma recepção VIP após o segundo show. No momento em que estávamos conversando com os dignitários nesta recepção, não tínhamos ideia do que estávamos tagarelando.

Também nunca ouvi ninguém dizer que gosta mais dos dias de viagem. Mas talvez haja uma pessoa assim por aí.

Alguns preferem os dias de dois shows. E para aqueles em nossa companhia que gostam, eles podem aproveitar um dia como esse amanhã. Essas pessoas dizem que gostam da simplicidade de um dia que gira inteiramente em torno da apresentação, e da alegria de interagir tanto com o público.

Outros podem gostar dos dias de uma apresentação à noite. O dia vai crescendo lentamente em direção ao grand finale.

Meus favoritos são os dias com um show à tarde. Levantar cedo. Tomar café da manhã ou ir para a academia. Ir ao teatro e preparar para o show. Ter um almoço rápido. Ir para o palco. Depois, jantar mais cedo, o que acho um bom motivo para comer um pouco mais. E então, uma noite agradável e relaxante que pode ser passada com amigos, explorando uma nova cidade, apenas relaxando no hotel, ou mesmo sendo produtivo em uma cafeteria. Hoje foi esse tipo de dia.

Bônus: por alguma razão, nossas sextas-feiras até agora no Canadá têm oferecido matinês, não apresentações noturnas. Tradicionalmente, nossos fins de semana apresentavam shows na sexta-feira à noite, dois no sábado e um à tarde no domingo. Apesar de ser sexta-feira à tarde, os teatros estão lotados e muito animados. Talvez alguém possa me dizer qual é o motivo. Mas não me entenda mal, eu adoro isso.

4 de janeiro: Foto de formação

Antes da nossa segunda apresentação de duas hoje em Montreal, os dançarinos se aquecem no palco. A coisa bonita sobre esta foto (cortesia do dançarino Ben Chen), é que eles não estavam posando para uma foto, eles apenas estavam se alongando em formação. A partir da esquerda: Jun Liang, Rubi Zhang, Shawn Ren, Bill Hsiung e Teo Yin.

5 de janeiro: Planos de amanhã

Com os gritos da plateia na chamada da cortina, terminamos nossa última apresentação em Montreal. Menos de duas horas depois, já estávamos indo para o oeste para Mississauga. A dançarina Betty Wang tinha acabado de postar um blog sobre como nosso clima canadense tem sido ameno, então é claro que pegamos uma tempestade de neve no meio do caminho, o que acrescentou mais uma hora à viagem de cinco horas. Não estou dizendo que é culpa dela. Eu não estou dizendo que não.

Amanhã será nosso primeiro dia de descanso desde que partimos para a turnê na manhã de Natal. Alguns de nós assistiremos ao novo filme do Star Wars. Alguns dançarinos ainda estão debatendo se ao vão laser tag ou arco e flecha. Alguns comerão uma grande salada no Whole Foods. A maioria vai dormir. Os bailarinos ainda terão seus treinos, e alguns músicos literalmente aproveitarão o dia e não o deixarão passar, praticando por horas a fio. Nossa harpista estava tentando descobrir uma maneira de tirar a harpa do caminhão (estacionado em outro lugar) e colocá-la no hotel. Para os violinistas é muito mais fácil.

6 de janeiro: No menu

Onde quer que vamos, o apresentador local oferece deliciosas refeições preparadas para nós, muitas vezes com especialidades caseiras. Conseguir o suficiente para comer durante a turnê não é o problema, muito pelo contrário. NO ENTANTO, o que acontece quando você pega um grupo de pessoas que todos os dias recebe sua comida e lhes dá um dia de folga para escolher o que comer por conta própria?

Fui ao Whole Foods e comprei uma salada enorme. Eu complementei com tofu, falafel e, claro, macarrão com queijo. Aqui está uma pequena pesquisa sobre o que nossos membros da ORQUESTRA tiveram hoje:

Hambúrgueres Big Smoke Burger
Macarrão de carne de Lanzhou
KFC
Comida indiana no Amaya
Salada com molho chipotle
Peixe e batata frita
Arroz roxo com bulgogi coreano e vegetais
Macarrão instantâneo….

Enquanto isso, os dançarinos fizeram seu treino físico hoje correndo para o shopping, pois era muito perto para pegar Uber, muito frio para caminhar sem pressa.

No geral, um raro dia relaxante e de volta aos treinos amanhã.

7 de janeiro: A perna misteriosa

Acordei cedo esta manhã e vi uma perna na parede. Meu colega de quarto, um dançarino, estava de cabeça para baixo em sua cama, a perna esquerda esticada contra a parede e apontando para o teto; a perna direita não sei ao certo onde. Ele estava dormindo profundamente.

Enquanto eu escovava meus dentes e me perguntava se minha escova de dentes com sua nova bateria estava tão barulhenta que iria acordá-lo, ou talvez não fosse tão barulhenta se eu não usasse minha boca para imitar a alavanca de uma guitarra, também ponderei se todos os dançarinos têm formas incomuns de dormir. Algumas mensagens de texto depois, tenho uma resposta para você:

Não, mas alguns sim.

A maioria dorme normalmente, inserindo-se entre os lençóis seguros do hotel e, quando os lençóis estão muito apertados, tentando não puxar o tendão da coxa enquanto eles os chutam. Mas alguns dançarinos são um pouco mais exclusivos:

Um de nossos dançarinos principais gosta de dormir virado para cima em um espacate horizontal, pernas e braços estendidos 180 graus para o lado. Como você verá, o sono esticado é um tema comum.
Uma variação comum disso é usada por muitos dançarinos para cochilar: eles ficam em um espacate lateral, então deitam de bruços e esticam os braços para os lados também. A maioria dos mortais não consegue nem chegar perto dessa posição, muito menos achar que é uma maneira relaxante de cochilar.
Outro popular é o sono no espacate frontal, cabeça aos joelhos. Sabe-se que um dançarino adormeceu em um quarto de hotel fazendo um espacate frontal vertical, ou seja, uma perna contra a parede, apoiada na parede.
Colchões duros são preferidos para o apoio das costas, e às vezes alguns dos rapazes simplesmente colocam suas roupas de cama no chão e dormem lá, deixando as camas macias frias.
Alguns não usam travesseiros; outros arrumam todos os oito travesseiros de ambas as camas em algum tipo de formação de bunker de saco de areia.
A maioria das mulheres não usa travesseiros, mas muitas trazem um bichinho de pelúcia.
Alguns dançarinos têm mini umidificadores, especialmente para quartos secos de hotéis canadenses.

Cochilar no teatro tem seu próprio conjunto de truques:

Três cadeiras e uma camisa no rosto é um método típico.
Arrastando os colchonetes para uma sala de troca rápida e cochilando, ai está outro.
Uma vez no ano passado, uma dançarina pegou uma mala de fantasias vazia e usou-a como base para o torso e a parte superior do corpo, basicamente dormindo em uma mala com as pernas para fora.
Outros têm esteiras de acampamento alemãs infláveis especiais.
E depois há aqueles dançarinos que não dormem muito e ficam acordados depois de quatro horas ansiosos para ficar tontos.

Falando nisso, meu colega de quarto se juntou a nós no saguão, pronto para ir ao teatro para o treinamento em um dia sem show. Deixe-me pedir sua permissão para postar isso.

8 de janeiro: Vídeo 'Banido na China'


Hoje, quando fizemos nosso primeiro show em Mississauga, uma entrevista que fiz pouco antes da turnê com o American Thought Leaders em Nova York foi transmitida ao mesmo tempo:

"Shen Yun Destrói Narrativas do Partido Comunista, Incitando Ataques pelo Regime da China"

Aqui está, se você estiver interessado. Aparentemente, algumas pessoas não sabiam que o Shen Yun não era propaganda do governo chinês. Assim que descobriram que o PCC está contra nós e tem tentado nos sabotar todo esse tempo, eles decidiram que deveriam ver o show e foram comprar ingressos.

9 de janeiro: O grande debate

"O violoncelo representa o homem ou o pai?", nosso concertino me perguntou. Parece que ele estava no meio de um debate com outro músico, talvez um violoncelista, e precisava de um árbitro.

"Sobre o que estamos conversando?", perguntei.

"Sabe no trio, entre o jovem taoísta, a jovem com lenços e o pai dela? O violino representa a jovem, mas há um violoncelo e uma viola representando dois homens. Então, quem é quem?"

Ok, agora eu sabia a que ele está se referindo — em nossa segunda metade, temos uma história em que um jovem taoísta, que é uma espécie de bruxo amigável, tem um instrumento mágico que pode fazer qualquer coisa do nada. Ele divertidamente o usa para tirar uma jovem de uma situação difícil. Os dois então descobrem que têm um vínculo espiritual.

Junto com seu pai solidário, um pequeno trio se segue. Os instrumentos solo são violoncelo, viola e violino, realizado pelo nosso concertino.

Mas as vozes de quem os instrumentos estão soando? O violino mais leve é certamente a jovem ágil com longas tranças. Mas o violoncelo mais profundo é o jovem taoísta, cheio de profundidade e sabedoria introspectiva? Ou talvez seja a viola, um instrumento de gama média, que representa o taoísta e o equilíbrio que encontrou com o Caminho do universo? Nesse caso, talvez o violoncelo represente o pai idoso, seus tons ricos ressoando com a profundidade de sua experiência de vida.

Ou não representam nem um nem o outro, e como dois ou três sons se fundindo como um, eles representam almas se unindo em um momento de predestinação taoísta?

Voltarei para você com algumas respostas no sábado.

10 de janeiro: O concertino

(Esta postagem é uma continuação do tópico de ontem, então se você ainda não leu, você pode rolar para baixo para ver primeiro e depois voltar.)

Então, em troca da minha participação no debate que começou ontem, o concertino concordou em nos contar um pouco sobre o que um concertino realmente faz. O papel pode ser óbvio para qualquer pessoa que já tocou em uma orquestra clássica, especialmente na seção de cordas. Mas essa não é a maioria de nós. Então, aqui está uma breve visão geral:

O concertino é como uma ponte entre o maestro e o resto da orquestra, começando com as cordas. Ele comunica os desejos do maestro para interpretar a música e como ela deve soar.

O concertino se senta imediatamente à esquerda do maestro. É por isso que a posição também é chamada de "primeira cadeira". Na Itália, o concertino é realmente chamado de la spalla, que significa ombro. Isso porque o concertino é a pessoa na qual o maestro pode, metaforicamente e literalmente, apoiar-se.

Ele ou ela — ele neste caso — é o encarregado de conduzir as seções de cordas ou, mais precisamente, de conduzir a primeira seção de violino.

Nos primeiros dias da orquestra sinfônica na Europa, não havia nem mesmo um regente separado — o concertino conduzia a orquestra.

O concertino normalmente toca todos os solos de violino na apresentação.

O concertino freqüentemente fornece decisões sobre o arco para uma nova música, de modo que toda a seção de cordas toque em uníssono.

Em apresentações sinfônicas, como a Orquestra Sinfônica do Shen Yun, o concertino, geralmente Chia-Chi Lin ou Astrid Martig, sobe no palco depois do resto da orquestra, mas antes do maestro, recebendo uma salva de palmas personalizada.

O concertino conduz a afinação da orquestra antes de uma apresentação. Isso não é apenas uma formalidade, mas uma preparação importante para o show. Se o concertino ouvir uma seção ou um instrumento desafinado, ele pode pedir-lhes para repetir a nota e corrigi-la.

E, logo antes de a apresentação começar, nos segundos finais antes de a cortina subir, depois que os holofotes do maestro acenderem e ele se levantar, o concertino e o maestro apertam as mãos. É um sinal de respeito mútuo entre o maestro e a orquestra, sendo o concertino um representante de todos os músicos.

Você pode ver por que o concertino tem que ser um dos músicos mais habilidosos da orquestra, um líder e músico forte com gestos de arco claros, um violinista com boa musicalidade e timing impecável, e alguém que pode ajustar e responder rapidamente, especialmente em uma performance que envolve sincronizar com os dançarinos no palco.

Com as sete orquestras do Shen Yun, temos sete concertinos, cada um com uma história pessoal muito diferente. Tseyu Chang do nosso grupo está agora em seu segundo ano como concertino. Nascido em Taiwan, ele está com o Shen Yun desde sua fundação em 2006 e já tocou em mais de 1.400 apresentações como parte da produção de dança, bem como oito anos com a Orquestra Sinfônica do Shen Yun, incluindo no Carnegie Hall e outras salas famosos de concertos em todo o mundo.

Mesmo assim, ele quer saber nossa opinião — o violoncelo é o taoísta e a viola o pai, ou o contrário? Terei que assistir e ouvir novamente esta noite durante a apresentação e entrar em contato com você.

11 de janeiro: O vencedor do debate

Tudo bem, eu tenho uma resposta para você para a pergunta abaixo (9 de janeiro).

Estou escrevendo para você do camarim aqui em Mississauga, Canadá, digitando baixinho para não acordar o maestro que cochila. Estamos entre duas apresentações no doubleheader padrão de sábado. Esta tarde, notei que o público aqui tinha um grande olho para os detalhes — eles estavam acompanhando todas as pequenas sutilezas da performance de perto e reagindo instantaneamente. Foi muito divertido.

Para não ficar atrás do nosso público, prestei atenção especialmente em como a música e a dança combinavam em uma história na segunda metade, e como os três personagens — homem taoísta, a jovem e o pai da jovem — alinhados com três instrumentos — violoncelo, violino e viola. E sim, depois de seguir os dançarinos nos bastidores, monitorando eles no palco, olhando e ouvindo com atenção, tenho uma resposta. A viola é o pai, o violoncelo é o taoísta e o violino é a jovem.

Sem fazer uma chamada para um compositor (pois isso seria trapaça), aqui está a evidência à minha disposição:

Já estabelecemos que o solo de violino leve representa a jovem de longas tranças. O concertino ontem me disse isso.

O tema do jovem cavalheiro taoísta, não exatamente um leitmotiv, mas claramente reconhecível, é tocado pelo violoncelo mesmo mesmo após o trio terminar e o pai recua para o fundo para o dueto entre sua filha e o taoísta.

Isso deixa apenas a viola para representar o pai. E, se você pensar bem, faz todo o sentido. O pai é um personagem entre os dois jovens parceiros e suas aspirações espirituais correspondentes de buscar o Caminho. Ele é solidário, mas é principalmente um intermediário que os apresenta e os abençoa. E entre os dois instrumentos de cordas do violoncelo e do violino, existe apenas a viola.

Levei apenas 15 shows para descobrir isso.

12 de janeiro: O ritual do pôster

Domingo à tarde e estamos bem antes de nossa sexta e última apresentação em Mississauga. Muitos corredores dos bastidores são enfeitados com pôsteres, geralmente assinados, de artistas e companhias que atuaram lá. Alguns são históricos — grandes lendas que mal foram capturadas nem mesmo em vídeo, e outros são mais contemporâneos.

Aqui em Mississauga, é como uma homenagem ao Shen Yun.

Conforme você caminha pelo longo corredor que corre paralelo à parede posterior do palco, um lado inteiro é coberto com pôsteres do Shen Yun de todos os anos desde que nos apresentamos aqui pela primeira vez em 2012 — cada um autografado por toda a companhia daquele ano.

Isso leva a um pequeno ritual enquanto os artistas, geralmente nos momentos livres após uma refeição, vagueiam para olhar as assinaturas. Eles procuram seus próprios autógrafos. Eles procuram amigos em outros grupos. Eles se lembram de pessoas com quem fizeram turnê cinco, seis, sete anos atrás. Eles encontram pessoas que já se aposentaram ou partiram e passaram a fazer outras coisas. Explosões do passado, suponho que não seja diferente de olhar os anuários de classe.

E, claro, há a assinatura do novo pôster. Alguns adicionam um pequeno brilho — um mini desenho de sua viola ou um local divertido para assinar um nome, como no pé do dançarino retratado. No ano que vem, mais um de nossos grupos vai adicionar os deles à coleção, em um pôster a ser definido, para uma apresentação a ser criada.

13 de janeiro: A despedida chinesa

É bom estar de volta ao sul da fronteira. Cruzamos a ponte Ambassador de Windsor, Ontário, sobre o rio Detroit e entramos em Michigan. Esta é uma das passagens de fronteira mais movimentadas na América do Norte, e a segurança era particularmente pesada hoje. Mais duas horas e um bufê nipo-chinês depois, chegamos ao nosso hotel em Grand Rapids. Amanhã teremos um daqueles dias intensos de preaparação-apresentação-ataque. Este pode ser o único da nossa companhia este ano, embora no passado os tivéssemos o tempo todo.

Esta manhã, quando partimos de um hotel no Canadá, os apresentadores locais e voluntários vieram para se despedir. Quando nosso ônibus amarelo brilhante dobrou uma esquina e parou em um sinal vermelho, avistei um chinês que ainda estava parado ali, olhando para nós, a alguns quarteirões de distância. Ele não estava acenando, como havia feito alguns momentos antes, pois já tínhamos ido embora. Ele estava literalmente se despedindo de nós.

Os chineses têm essa tradição que achei muito tocante na primeira vez que a experimentei. Quando eles se despedem de alguém, digamos, um convidado em sua casa, eles ficam lá e observam a pessoa ir embora até que o carro desapareça à distância. Isso às vezes leva a uma dancinha de adeus, em que a pessoa vai embora, depois se vira para olhar para trás e acena, depois segue em frente, para o carro e acena de novo e finalmente desaparece. Essa mesma cena de despedida também pode ser representada em outros ambientes — se levarem alguém até uma estação de metrô, por exemplo, eles ficarão no degrau mais alto até que a pessoa desapareça inteiramente por baixo.

Talvez muitas outras culturas também façam isso. Nós definitivamente vimos ou fizemos esse tipo de coisa em aeroportos, certo? E está nos filmes nas estações de trem ou quando um navio transatlântico sai do porto. E está nos romances, onde amigos caminham uns aos outros até a periferia da vila, relutantes em se separar.

Mas nunca vi isso ser feito tão constantemente, mesmo na ocasião mundana de deixar um colega em casa, como aconteceu com meus amigos chineses.

O que me traz de volta ao homem de jaqueta azul e boné de beisebol preto olhando para cima parado em uma luz vermelha eterna. Ele fazia parte da equipe encarregada de vigiar nossos veículos 24 horas por dia. Temos esse tipo de segurança para nossos veículos desde que alguém, e achamos que sabemos quem, tentou sabotá-los em uma série de cortes de pneus e adulteração do tanque de combustível alguns anos atrás. Daquele dia em diante, inúmeros voluntários ao redor do mundo, muitos deles chineses que não falam inglês, ficaram sentados em seus carros estacionados a noite toda observando nossos ônibus. E fazemos turnê durante o inverno. No Canadá.

Eles fazem isso em apoio ao Shen Yun e ao que fazemos. Eles não querem nenhum reconhecimento. Eles se revezam, então nem mesmo vemos os observadores noturnos. Eu nunca, em todos esses anos, ouvi nenhum deles reclamar. Mas vi seus narizes frios e vermelhos e bochechas secas pelo vento quando eles se despediram de nós. E eu vi o homem parado ali sozinho. Tentei acenar para ele, mas ele não conseguia me ver dentro do ônibus. Estávamos indo para a próxima cidade, e ele voltou para sua família e para pôr em dia o trabalho perdido depois de uma semana de férias protegendo nossos ônibus, e não querendo dizer adeus.

14 de janeiro: Da Venezuela com amor

Conheça Gustavo Briceño. Violinista, este é seu terceiro ano com o Shen Yun. Sua esposa, Gabriela Gonzalez-Briceño, é fagotista do Shen Yun. E eles viajam pelo mundo juntos — em companhias separadas. Deixe-me explicar.

Gustavo e Gabriela são venezuelanos, onde já haviam embarcado em destacadas carreiras musicais antes de ingressarem no Shen Yun, juntos, em 2017.

Como você provavelmente sabe, o Shen Yun atualmente tem sete companhias que fazem turnês pelo mundo ao mesmo tempo. Gustavo sempre esteve em nosso grupo — Shen Yun World Company. Gabriela está com a orquestra do Shen Yun International Company. Estamos em Grand Rapids, Michigan. Eles estão em Manchester, na Inglaterra. Mas eles estão sempre juntos.

Aqui está uma foto de Gustavo no almoço. Isso é o que ele faz—seu fone de ouvido está constantemente conectado a pelo menos um ouvido. É a mesma coisa quando ele entra no ônibus pela manhã. É a mesma coisa quando ele está na academia. É a mesma coisa quando ele está ajudando a empacotar depois de um show.

Ele não é uma daquelas pessoas que está sempre ouvindo podcast ou música clássica, ou usa fones de ouvido apenas para evitar humanos reais. Ele parece ter apenas uma linha telefônica aberta constante com sua esposa. No casamento, comunicação é tudo, certo?

E se você se sentar ao lado dele no almoço, não parece que ele está sendo anti-social. Ele está envolvido na conversa da mesa. É que ele está tendo outra conversa paralela em espanhol em seu fone de ouvido. É como se sua esposa estivesse lá, ao seu lado, lhe fazendo companhia. Presumivelmente, alguém no mundo paralelo de seu grupo está escrevendo um blog sobre ela falando com Gustavo.

E se você está se perguntando por que não colocar os dois no mesmo grupo. Bem, também temos casais assim. Não tantos, realmente, mas alguns. E se todos eles estivessem nos grupos uns dos outros, seria administrativamente difícil, se não impossível.

Por exemplo, Gabriela toca fagote. Mas o fagote da nossa orquestra é casado com um dos percussionistas dessa orquestra, então você teria que realocar os dois para outra companhia para trazer a Gabriela aqui. Fica complicado super rápido.

E então há o argumento de que vocês podem gostar de estar juntos quando estão em casa, e em turnês você pode se concentrar em sua arte e atuação. Somos uma grande família de qualquer maneira, e há muito apoio e carinho para todos.

Além disso, na minha experiência, estar ausente metade do ano é uma boa fórmula para um casamento longo e feliz: sair para a turnê antes de esgotar suas boas-vindas, voltar quando você sentir falta o suficiente.

Ou apenas fale muito ao telefone.

15 de janeiro: Top 8 maneiras de perder coisas

Ontem foi só um e pronto em Grand Rapids. Isso também significa apenas uma breve estadia no hotel aqui antes de ir para Detroit esta manhã. Eu percebi uma lei cósmica de que há uma correlação inversa entre o quão bom um hotel é e quanto tempo você fica lá. Chame isso de Lei de Fawlty.

Todos os hotéis em que nos hospedamos hoje em dia são muito bons, mas às vezes há aquele que é tão perfeito que tem até recarga de celular sem fio, omeletes deliciosas e uma academia decorada. Então, em um hotel tão perfeito como este, podemos ficar no máximo duas noites.

E é nessa combinação de estadias curtas em hotéis e estadas de um dia em um teatro que é mais fácil perder coisas. Ontem à noite, durante o intervalo, uma das carteiras de nosso violista (temos mais de um violista, mas cada um tem apenas uma carteira) foi relatada como roubada. Quando todos estavam prestes a verificar rapidamente seus objetos de valor, ele a encontrou.

É tão fácil perder coisas em turnê. E se você é novo nessa habilidade, aqui estão as top 8 maneiras para você começar:

1. Quando você chegar ao seu quarto de hotel, desfaça sua mala e coloque tudo em todas as diferentes gavetas da cômoda, gavetas do criado mudo, gavetas da mesa e qualquer compartimento possível que você encontrar. Na manhã seguinte, acorde tarde e faça o check-out com pressa.

2. Esconda seu passaporte muito, muito bem.

3. Vá para a plateia vazia à tarde e fique confortável, tire a touca e o cachecol e coloque-os no assento ao seu lado. Lembre-se deles uma semana depois.

4. Ouça música em seus Apple Airpods enquanto está deitado na cama. Em seguida, observe-os desaparecer nas almofadas fofas brancas, para nunca mais serem vistos.

5. Quando o ônibus parar em um posto de gasolina, pegue o carregador do telefone e conecte-o atrás de uma máquina de venda automática. Depois vá ao banheiro e, como a fila é muito longa, volte correndo para entrar no ônibus. Se apenas os ônibus tivessem carregamento sem fio.

6. Sempre que você sair do seu quarto de hotel, confie que a porta fechará sozinha atrás de você. Não se preocupe em puxá-la atrás de você, ouvir a trava, testá-la empurrando para trás ou qualquer coisa parecida. Definitivamente, deixe sua carteira em algum lugar visível.

7. Ao sair correndo do hotel atordoado pela manhã, pegue seu café da manhã, um casaco e coloque a chave do hotel em algum lugar. Quanto mais vago, melhor.

8. Deixe seus sapatos de dança fora do parapeito da janela do hotel durante a noite para arejar. Isso funciona melhor em Chicago.

(Obrigado à dançarina Betty Wang por contribuir para esta lista! Ela contribuiu como repórter, quero dizer, não com base na experiência pessoal. Pessoal, sim, mas não coisas de sua pessoa.)

Na verdade, a maioria de nós fará turnês inteiras seguidas sem perder nada. Mas então há algumas pessoas, e não vou nomeá-los aqui, todos nós sabemos quem são, que têm um talento especial para essa habilidade. Eu tenho uma lista dessas pessoas, agora onde eu coloquei…

16 de janeiro: O quiosque do shopping

No caminho de Mississauga para Detroit, uma de nossas viagens mais curtas do ano, paramos no Twelve Oaks Mall em Novi, Michigan. Esta é uma tática comum em deslocamentos locais. Se você precisa fazer check-out do seu hotel até as 11 e não pode fazer check-in no próximo antes das 3, e a viagem é de apenas algumas horas... vamos ver, 11 mais três, carregue o 1, voltar para o sistema de 12 horas am/pm, menos 2, adicionar para o tráfego, sair... algum tempo. Então, por que não parar em um shopping para almoçar no caminho?

Foi aqui que encontrei algo me chamando: um quiosque de vendas de ingressos do Shen Yun desocupado.

Este estava muito bom. Tinha alguns pôsteres grandes, panfletos e uma tela reproduzindo o trailer em loop. Mas não havia ninguém lá. Então, não muito diferente de Cachinhos Dourados, eu entrei imediatamente. Havia uma cadeira — não muito macia, não muito dura, apenas certa. E uma mesa, nem muito alta nem muito baixa.

Assim que me acomodei, uma senhora se aproximou. Impecavelmente vestida e caminhando com um andar elegante, ela parecia a frequentadora de teatro perfeita. "Com licença", disse ela com o que agora vou lembrar como um sotaque britânico. "Por acaso você sabe onde J.Crew está?". Esse era um tema recorrente, já que, de lado, o quiosque parecia uma tenda de informações. Eu educadamente redirecionei as pessoas na direção do diretório a alguns passos de distância.

Uma senhora disse que há anos queria ver esse espetáculo, perguntou sobre horários específicos, pegou um panfleto e disse: "Talvez eu te veja lá". Mal sabia ela…

Então, três músicos vieram, prontos para me desafiar. "Olá, senhor, gostaríamos de saber mais sobre esta apresentação".

"Com certeza! Escutem", eu disse, "posso conseguir um acordo especial para vocês! Bancos no nível da orquestra, bem perto do palco. Excelente vista do maestro. Experiência de som surround. Além disso, podemos providenciar viagens de ônibus gratuitas ida e volta para o teatro, uma refeição chinesa pré-show e uma refeição servida pós-performance. Vocês ainda terão a oportunidade de se misturar com alguns dos artistas e ficar com eles no mesmo hotel!".

De alguma forma, eles não compraram os ingressos e eu fui para a praça de alimentação.

17 de janeiro: Em Detroit

Primeira apresentação em Detroit esta noite. Estaremos aqui por cerca de 10 dias e fazendo 10 shows, o período mais longo em Detroit que me lembro. É na bela Detroit Opera House, com um saguão como o Palácio de Versalhes, camarotes como o Teatro alla Scala e um backstage como o Alcatraz. Os camarins, onde os solistas como a nossa soprano ficam, foram de fato projetados para os Sopranos — vagamente iluminado, poltronas de couro preto com tachas de ouro, fotos da famiglia nas paredes...

Eu estou brincando. É um belo teatro construído em 1922 que une a antiga glória de Detroit e o renascimento contemporâneo, completo com cafés descolados nas proximidades. Tentaremos conseguir algumas fotos.

Nos instalamos e fizemos a maior parte de nossa preparação ontem. Alguns teatros requerem apenas mais tempo. Não vou aborrecê-lo com os detalhes, mas direi que envolvia escadas. Muitas e muitas escadas.

Hoje iremos ao teatro na hora do almoço, faremos uma passagem de som e espaçamento do palco à tarde, e nos prepararemos para cumprimentar o público esta noite. Talvez a senhora do shopping (veja o post de ontem) esteja lá.

18 de janeiro: Vídeo dos dançarinos pela neve


Bom dia de Detroit. É assim que nosso dia começa antes de dois shows. Para todos os membros do nosso público que vêm ao teatro, e todos os outros lá fora: dirija com cuidado e fique aquecido. Esperamos vê-lo dentro do aconchegante teatro.

19 de janeiro: Reciprocidade

Às vezes, pequenos momentos me mostram que o universo é gentil.

Esta tarde, eu estava me barbeando antes do show. Eu sempre espero até o último minuto porque minha barba cresce tão rápido que tenho uma barba por fazer por volta das nove da manhã. Enquanto ensabouo, tenho um lugar sobrando para cobrir. Uma última gota de gel de barbear sai da lata. É isso aí. Eu agito a lata — está vazia. Meio ano usando essa lata, e ela esvaziou depois de fornecer apenas a quantidade certa pela última vez. E quando esvaziou? Na primeira vez em toda a turnê, temos uma viagem para Target agendada após o show.

Um eu cínico poderia esperar que esvaziasse há alguns dias, deixando-me correndo para cima e para baixo nos corredores brandindo uma navalha com o rosto meio espumado. Ou podia esvaziar amanhã, um dia depois de irmos às compras sem que eu percebesse que estava acabando. Ou poderia ter apenas uma gota a menos. Ou uma gota a mais. Não. Foi simplesmente perfeito. E isso chega em um momento em que estou procurando conscientemente o lado positivo das coisas.

E isso me faz pensar sobre o que escolhemos ver e notar. Já ouvi pessoas chamarem um fenômeno semelhante de lei da reciprocidade—aquilo que pensamos afeta o que acontece ao nosso redor; ou a lei da atração—que pensamentos negativos ou positivos trazem consequências correspondentes.

Já ouvi psicólogos explicarem isso dizendo que são os dados que seu cérebro escolhe processar; por exemplo, quando você pensa em comprar um determinado modelo de carro, começa a vê-lo em todos os lugares. Pessoas religiosas falam sobre ver Deus em tudo. Eu até ouvi empresários falar sobre como, quando eles têm uma ideia, as pessoas ao seu redor simplesmente começam a aparecer com oportunidades para fazer acontecer.

Mas o que dizer de coisas terríveis como escravidão e genocídio? E quanto ao DMV, ou como quando você está no trânsito e entra em uma via desobstruída, ela imediatamente se torna a mais lenta? E quanto à Lei de Murphy e, sim, até mesmo a Lei de Fawlty (ver 15 de janeiro)?

Olha — isso é um blog, não uma aula de filosofia. Então me dê um tempo. É claro que não tenho todas as respostas. Só estou dizendo que talvez às vezes, se entrarmos em sintonia, possamos perceber momentos do universo sendo justo. Insta-karma, por exemplo, é definitivamente uma coisa.

E às vezes esses momentos de bondade podem ser atribuídos a pessoas reais. Nos últimos dias, duas pessoas do meu grupo fizeram algo gentil por mim. Era muito pequeno, e o que eles fizeram realmente não importa. Mas foi a maneira como fizeram isso que me tocou. Eles fizeram tudo silenciosamente nos bastidores. Aconteceu, em um momento de brilho absoluto, de ligar os pontos por conta própria.

Eles não só não me disseram que fizeram isso, como fizeram isso sem nem mesmo deixar aquela dica que deixamos para trás se quisermos que alguém descubra que fizemos algo de bom para ele, mas queremos que pareça que não queríamos que ele soubesse porque isso é mais nobre, mas na verdade queremos que ele saiba, mas não queremos mostrar que queremos que ele saiba, sabe? Nada disso. Simplesmente fazer algo bom para alguém porque é o tipo de coisa que uma pessoa pode fazer.

E às vezes, os cremes de barbear também são pessoas.

20 de janeiro: Emoldurado no saguão

Aqui está uma foto do belo saguão da atemporal Detroit Opera House. A partir da esquerda: violoncelista Jasmine Jordan, violista Paulina Mazurkiewicz e oboísta Leen De Blauwe ao lado do pôster do Shen Yun emoldurado requintadamente.

Você acha que a Opera House pinta suas paredes para combinar com o fundo do pôster do Shen Yun todos os anos?

21 de janeiro: Motor City

Dia de folga em Detroit hoje, antes de cinco dias consecutivos de apresentações. Oito dos nossos rapazes, no espírito de Motor City, saíram para uma corrida de kart.

Era um negócio sério, completo com equipamentos de segurança, um briefing formal e planilhas de análise de desempenho.

Então o que acontece quando um grupo de dançarinos com necessidade de velocidade usa sua agilidade, reações rápidas e tempo perfeito para correr? O único músico do grupo vence.

O violinista Will Zhou fica mais alto (embora apenas um pouco) que os dançarinos Teo Yin (segundo) e Jun Liang (terceiro).

22 de janeiro: Perguntas e respostas do desafio de intervalo

Estamos prestes a começar a segunda parte de nosso período de 10 shows em Detroit, com uma apresentação hoje à noite, amanhã à tarde, sexta à noite, duas no sábado e uma no domingo antes de partirmos. Dito isso, não nos apresentamos na segunda ou terça-feira. E nosso show no domingo foi uma matinê antecipada, então serão mais de 72 horas entre os shows.

Alguns dias de folga podem parecer um fim de semana normal, mas em turnê, quando estamos nos apresentando quase todos os dias, dois ou três dias sem shows parecem muito tempo. Viajar para o exterior costuma ser sequências de vários dias sem apresentações, com voos intercontinentais e tudo. Mas na América do Norte pode haver apenas algumas dessas turnês, e pode parecer um pouco estranho.

É claro que os artistas estão acostumados a estar dentro e fora do palco. Então, vou incomodar algumas pessoas durante o jantar e perguntar se o intervalo de dois dias apresenta algum desafio:

Dançarino Jack Han: Parece que não temos um show hoje. E parece uma nova cidade.

Percussionista Brian Marple: Com uma dispensa de dois dias, a memória muscular fica um pouco gorda. A sensação da música não está tão ao seu alcance, então você precisa se concentrar muito mais para obter a mesma precisão.

Dançarina Betty Wang: Tenho que me certificar de que aqueci muito bem, incluindo todos os pequenos músculos. E também praticar todas as técnicas que temos para o show no aquecimento, para termos confiança no palco.

Pianista Hui-Zhen Chen: Existe alguma diferença? Eu terei que te dizer depois de estar no palco.

Dançarina Lily Wang: Lavanderia. Não estando no teatro com acesso às máquinas de lavar, tenho o equivalente a dois dias de lavanderia para dançar.

Flautista Helena Huang: Depende se você praticou ou não. Se você praticou adequadamente, não há problema.

Fagote Steven Louie: Um bom músico está sempre preparado.

Concertino Tseyu Chang: Desafio? Sim, o desafio é que eu realmente sinto que quero mais dois dias de folga.

Dançarino Ben Chen: Não será difícil ter energia, mas precisa focar a mente na coisa certa. Com técnicas difíceis, por exemplo em um dia de dois shows, no momento em que você chega à apresentação noturna, você já fez isso com sucesso à tarde, e você fez isso antes de cada show durante o aquecimento. Então você sente que acabou de fazer isso. É mais sobre como voltar à rotina mental. Ainda assim, são apenas dois dias — não é como se você tivesse deixado seu carro parado ali durante todo o inverno e estivesse tentando ligá-lo novamente.

E aí está. Devemos ser capazes de ligar este carro sem problemas.

23 de janeiro: A trombeta silenciosa

Falta uma hora para o show, e Aleksandr Antonov está parado no corredor do porão do teatro. Seus cotovelos estão levantados, seus olhos estão fixos em algum lugar à frente, nem perto nem longe, e sua trombeta está pressionada contra sua boca. Seus dedos estão se movendo quase tão rapidamente quanto sua mente, mas nenhum som sai.

Aleksandr, conhecido principalmente como Sasha, cresceu em São Petersburgo, na Rússia. Quando ele tinha 6 anos, começou a estudar piano e três anos depois foi testado em um conservatório de elite, onde estudou por oito anos. Mas quando ele completou 12 anos, uma professora recomendou que ele estudasse outro instrumento e pensasse em mudar de curso. Sasha pegou a trombeta.

"No início, senti ressentimento", diz ele, "mas agora sinto gratidão por minha professora, porque ela contribuiu diretamente para o meu futuro".

Sendo trompetista, suas habilidades eram muito solicitadas nas orquestras da Rússia, e foi o trompete que o levou ao Shen Yun.

"Isso me mostrou que às vezes, mesmo quando você tem que mudar algo em sua vida, que, no momento, parece um passo para trás ou uma ação indesejada que é forçada, muito mais tarde pode acabar sendo uma coisa boa".

Sasha concluiu o mestrado com honras em concertos no prestigioso Conservatório de São Petersburgo, na Rússia. Ele ganhou competições internacionais e serviu como trompete principal da Orquestra Sinfônica do Estado de São Petersburgo. Então, ele viu que o Shen Yun tinha uma abertura. Ele decidiu se inscrever.

"Quando cheguei ao Shen Yun, me senti muito confortável, como se este lugar sempre tivesse sido minha casa", diz ele. "Gostei das pessoas e da forma como era tratado e como todos se tratavam. Descobri que a atmosfera no Shen Yun é de carinho, ajuda, benevolência e compreensão".

Isso não significa que ele não teve que trabalhar muito. Sasha chegou apenas dois dias antes do início da turnê e tinha apenas dois ensaios antes da noite de estreia. Foi um desafio, mas com a ajuda de sua seção de metais e maestro, ele conseguiu.

Agora que ele está aqui há alguns anos, Sasha elogia as vantagens de fazer parte deste grupo, listando: "Turnês mundiais enormemente grandes sem precedentes", "conhecer pessoas de todo o mundo no Shen Yun" e "elevados critérios morais entre os membros devido a aderir aos princípios morais e conceitos do Falun Dafa".

Isso faz a diferença para ele no dia a dia. "Isso cria um campo interno e valores de vida bastante semelhantes entre as pessoas aqui, o que traz a sensação de estar em uma família onde todos cuidam uns dos outros e têm consideração uns pelos outros".

Claro, havia algumas coisas com as quais se acostumar. Mas quando você pergunta a ele sobre elas, não é o que você poderia esperar—muita comida chinesa, sessões de meditação em grupo ou longas viagens de ônibus. Era mais pensar como um grupo do que como um indivíduo, e os altos padrões profissionais, como um código de vestimenta rígido e estar sempre na hora (se você chegar cinco minutos adiantado, estará cinco minutos atrasado). "Para qualquer pessoa vindo ao Shen Yun pela primeira vez, essas podem ser as coisas com as quais se acostumar".

Sasha fez muitas pesquisas antes de entrar na companhia e sentiu que já sabia um pouco sobre o Shen Yun. "Eu sabia que o Shen Yun é um ótimo lugar, mas assim que vim, no primeiro dia, tive a certeza de que minhas expectativas estavam superadas".

Ele ficou surpreso com o que chama de "a gestão impressionante de todos os aspectos da produção no Shen Yun". Acomodações, transporte e alimentação são perfeitamente organizados para os artistas em turnê, enquanto em casa ele desfruta das lindas instalações caseiras.

"Tudo isso oferece as condições mais confortáveis para músicos e dançarinos praticarem e trabalharem na produção".

Agora, conforme os minutos passam antes do show, ele está de pé em sua blusa azul do Shen Yun, preparando-se para a passagem talvez mais desafiadora para um músico na apresentação deste ano. É um solo de trompete incrivelmente rápido.

Sasha frequentemente pratica não tocando realmente o instrumento, apenas tocando as válvulas com os dedos, imaginando que está tocando, concentrando-se na precisão do dedilhado. Outras vezes, ele toca compasso por compasso em um andamento lento para trabalhar a complexidade dos aspectos desse solo.

"Este é um solo de trompete bastante atípico da perspectiva do repertório clássico mundial, em que o trompete seria mais alto e parecido com fanfarra, às vezes técnico o suficiente, mas não tanto", diz ele. "Mas este solo é mais, eu diria, como um solo de clarinete ou flauta. Envolve uma melodia saltitante e uma textura muito rápida".

Existem algumas semelhanças no trabalho sinfônico que envolvem solos de trompete brilhantes que são rápidos, ou aqueles que destacam momentos dramáticos e clímax. Nesses clássicos, diz ele, "o trompete muitas vezes desempenha um papel em entradas ou solos altos, ou como uma função de enriquecimento harmônico das notas longas e 'pedais'". Mas na música do Shen Yun, o trompete assume papéis adicionais.

"Há muito mais funções e deveres colocados no trompete que definitivamente tornam o trompetista do Shen Yun mais ocupado em comparação com a reprodução de obras sinfônicas clássicas".

"Os solos são mais complexos, rápidos e saltitantes, e muitas vezes executados de forma aberta e transparente, sem muita cobertura de outros instrumentos, o que requer muito mais precisão e exatidão".

E é isso que esse solo, que aparece logo antes do intervalo, também exige. E essa passagem, executada por um trompetista russo, corresponde, tanto em exatidão quanto em explosividade, às técnicas correspondentes dos dançarinos chineses no palco.

24 de janeiro: O ano novo chinês

Hoje é a véspera do Ano Novo Chinês, ou chuxi (除夕). O que isso significa é que esta noite, enquanto estivermos no palco em Detroit, os chineses (e os asiáticos em geral) em todo o mundo começarão suas próprias comemorações.

O que também significa é que hoje nossos telefones tocarão fora do gancho. (Ainda dizemos isso? Talvez zumbindo na tela de bloqueio?)

Logo pela manhã, você verá pessoas no saguão do hotel ligando para a família na China ou Taiwan, onde já é noite e as comemorações estão acontecendo. Então, ao longo do dia, todos — chineses, não chineses casados com chineses, pessoas que conhecem chineses — receberão mensagens de texto. Na verdade não são mensagens em si, mais como cumprimentos de longa-metragem completos, completos com cenas de créditos finais.

Eu percebi que eles ficaram mais sofisticados nos últimos anos. Costumava ser um texto simples: Feliz Ano Novo Chinês (guo nian hao). Você pode simplesmente copiar e colar e responder. Feito. E repita 47 vezes ao longo do dia.

Em seguida, evoluiu para todos os tipos de enigmas e rimas inteligentes envolvendo um porco, galo, ornitorrinco ou qualquer que seja o zodíaco do ano.

Este ano é o camundongo ou rato (veja a excelente história de Alison Chen), então podemos esperar um trocadilho chinês equivalente a: "É hora de brincar, o gato está longe!" Ou "Desejo a você um ano novo de ratos!" Ou "Ei, a palavra do rato diz que você vai ter um ótimo ano!" E assim por diante. É um pouco melhor em chinês.

E depois há as imagens. Gifs, vídeos, desenhos animados. Fogos de artifício, balões, confetes. Parece que todo ano é um joguinho implícito para superar o ano anterior. Não tenho tempo para pesquisar a imagem animada holográfica perfeita, original e nunca antes vista do Ano Novo Chinês—é preciso blogar, você sabe. Então eu ainda respondo com o antigo 1.0: "guo nian hao!" esperando conseguir um passe como lao wai (não chinês).

Mas se eu conseguir alguns divertidos este ano, vou compartilhá-los com você em alguns dias. Enquanto isso, coma um nian gao—literalmente bolo de flor de arroz glutinoso, mas também literalmente "um ano elevado!".

Feliz Ano Novo Chinês!

Jan 25 - Interview Time?

Scheduling. Is it just me, or is it getting harder and harder to get two people to cross paths along the time-space continuum in some sort of pre-planned manner?

I have a friend in Detroit who works 10 minutes away from the theater. We've been trying to meet since I got here and every day something comes up. And here's a better example—a Shen Yun interview we've been trying to schedule.

Sometimes on tour we'll do interviews—usually morning talk shows or radio calls. The radio ones are my favorite: You don't need to do makeup or go anywhere; you don't need to dress up. More importantly, you don't have to talk in sound bites (TV) or fear the reporter (newspaper) will remember your words wrong and quote you as saying something silly. In radio, you have a conversation. The people interviewing are usually good talkers, inquisitive, and fun to chat with. Your words won't get distorted and you usually have at least 5-10 minutes to get into things.

So we had a radio interview scheduled. Or so I thought. A few simple emails back and forth and we landed on 2:30pm EST, 5:30pm PST. And if you start to see the problem, you're already one step ahead of me.

2:30pm comes around and I go into a quiet dressing room. I kick people out. I turn off the noisy radiator. I've got my water and I'm ready to go. Nothing. I look at my watch. Hmmm. A light bulb goes off (in my head this time). You know, I think they must have gotten it backwards—2:30pm EST is 11:30am PST. They must've meant 2:30pm PST, 5:30pm EST. Great, I'll do something else now and be back at 5:30pm.

5:30pm comes around. I've reclaimed the same dressing room. Put up a sign: "INTERVIEW IN PROGRESS. QUIET PLEASE." I knocked on the door of the singing soprano in the next room and politely asked if she could stop her mandatory professional training for about 15 minutes, you know, maybe go get dinner or something. I packed an early dinner for myself for later in case the interview goes long. I've got my water. I'm ready.

5:35pm. Nothing. 5:45pm. Nothing. I pick up the phone and... send a text message, because who calls anymore, right? Clearly not the radio station.

Oh, turns out they meant 5:30pm PST, 8:30pm EST.

Well, we have intermission at exactly 8:30pm, so maybe… No, no, that won't work.

Okay, it's rescheduled for Tuesday when we're in Evansville. That'll definitely be fine. Right?

Jan 26 - 10-Show Ran

We finally finished our 10-show run in Detroit. The audience here was remarkably enthusiastic. And, as promised, here are some photos of the beautiful Detroit Opera House, courtesy of violinist Will Zhou (who you'll recall is also known for his go-kart talents, see Jan. 21):

Jan 27 - New Year's Apart

Chinese New Year is a time for thinking about family. And today, at a gas station in the middle of Ohio, a mac-n-cheese got me thinking about it too.

Growing up in Israel in the '80s, I used to crave some of the foods I had experienced while living for periods of time in America. My late grandmother, who was from California, would visit us maybe once a year and would always come with two suitcases: one for her clothes, and one full of American foods we couldn't get in Israel—Lucky Charms, marshmallows, Charleston Chews, taco shells, and boxes of mac-n-cheese.

Those Kraft macaroni boxes cost maybe 25 or 30 cents each, but they were precious to us, and we would save them for birthdays and other special occasions. So today, as I was standing outside a Pilot gas station eating a cup of hot mac-n-cheese, somewhat taking it for granted, my mind jumped to how we treasure things when they are limited, and how we treasure things once they are gone.

Which brings me back to the Chinese New Year. This image below, posted on Shen Yun's Facebook page, made someone in my group cry:

It's just a cute little image of a family gathered around the table for the New Year, three generations happily, if simply, enjoying each others' company. But for this person, the image was a reminder of moments no longer possible.

This is a reality for so many of my friends and colleagues. It's a type of persecution that won't make headlines: 'Dancer Cannot Join Family for Chinese New Year.' 'Cellist Not Allowed to Attend Daughter's Wedding.' But it hits close to home.

A few years ago, a performer was on tour with me when her father suddenly passed away in China. She had been particularly close to him, closer than almost anyone else in the world. She hadn't seen him in years, separated because, as a Falun Gong practitioner and a member of Shen Yun, she could not go back to China. If she were to go back, it would only to be arrested, interrogated, or worse. Neither could she go back for the funeral.

China today may seem very open and advanced. But those who rub the Chinese Communist regime the wrong way—sometimes just by meditating in a park or handing out a flyer—they experience the wrath of an old school dictatorship.

Perhaps this dual reality can be allegorically compared to West Germany and East Germany. For some, until that moment you experience what the regime is really like, you live in West Germany, part of the free world. You surf what you think is the Internet, you travel overseas, you enjoy your family, you shop, and you deal with the day-to-day that we all do.

On the other hand, if you live on the other side of the wall—and you may not even be sure how you ended up there but you did, perhaps by joining a performing arts group the government doesn't like—then you have Stasi agents following you around, listening to your phone conversations and hacking your email, keeping dossiers on your every move, and threatening your family and friends to stay away from you. If you escaped from the East side to the West side, going back for holidays is not an option.

In Shen Yun we have a dancer whose father was arrested, tortured to death, and his body thrown into a ditch; she was 15 months old. We have another dancer whose father was a prisoner of conscience for 12 years. We have a musician who nearly starved to death and saw "heads smashed like watermelons" during Mao's Cultural Revolution. There are many others.

By comparison, I guess, not being able to see your father one last time or join your aging grandparents for the holiday may not seem like much. But for many of our performers from China, at this time of year it still hurts.

Jan 28 - Welcome to Evansville

Just had our first performance here in Evansville, Indiana.

Evansville is, among other things, famous for where A League of Their Own was filmed. Okay, so this is when everyone who knows me starts rolling their eyes and dreading this will be a baseball blog. No, this is not the blog where I tell you that I met my wife playing baseball and that this was her favorite movie. So I won't tell you that.

On the northern shore of the Ohio River, Evansville is part of a tri-state region that includes Indiana, Kentucky, and Illinois. It's like our own tri-state back home along the Delaware River in New York, where you might work in N.Y. during the day, get gas in New Jersey, then have dinner in Pennsylvania.

One thing you notice right off the bat (sorry, promised this wouldn't be a baseball blog) is that, how do I say this without sounding like I'm making major stereotypical generalizations, people here are nice.

They're really nice, actually. Noticed it the first few minutes in the hotel lobby, when three different hotel staff members came over to welcome us with avuncular warmth. Noticed it again today doing an interview at the local NBC station. As we're waiting for our spot—we were slotted between elementary school students talking about their charitable projects and the town sheriff—each person who went on the show came over and shook hands with every other person waiting, took sincere interest in what they were there for, and wished them a genuine all the best. Then the TV anchor, local icon Mike Blake, gave me such a warm, friendly handshake, and chatted with me as much as he could during commercial breaks. He's a legend here, having been on the air five days a week for 40 years, and yet I can't remember the last time a TV host made such an effort to make sure I was perfectly at ease.

And you could see it with the audience when, during the curtain call, audience members stood up to shake hands with the conductor and blow kisses at the performers.

It's one of those things that maybe normally we don't notice is missing, as we spend most of our time in fast-paced big cities. And then it hits you when you see it—oh, yeah, maybe this is what human relations are supposed to be like.

Jan 29 - Working to Classical Music


I just love working to classical music, don't you? At the Evansville Old National Events Plaza backstage green room. From left: Gustavo Briceño, Ian Chung, Chungyi Chen, and Paulina Mazurkiewicz. Cellist was missing in action, but still sounded great!

Jan 30 - Haunted Hotels

Just pulled in to our hotel in Milwaukee, and I'm happy to report it is not the Pfister Hotel. Nor is the Ambassador Hotel. There are a handful of hotels in Milwaukee that are famously haunted, and we have company members who can testify.

A few years ago, one of our companies was put up at one of these hotels. A soprano and a production member who were sharing a room were woken up in the middle of the night by footsteps and shadows moving about the room. Lights turning on and off. You know, the usual.

Pfister Hotel is actually famous among baseball players, as Major League teams used to stay there when in town to play the Brewers. This website collected a few of the players' complaints about paranormal activity. Here's one from a former Washington Nationals star:

"I laid a pair of jeans and a shirt on that table at the foot of the bed. When I woke up in the morning—I swear on everything—the clothes were on the floor and the table was on the opposite side of the room."

And here's a story from

another website

:

"During his first night in the hotel he experienced a wide array of activity. The man stated he had problems with the phone when he called room service. There was static and the phone kept getting disconnected. He heard a knocking at his door, which he assumed was his room service, but in fact, there was no one there.

"As it turns out there were no children and only three other people staying on that floor. Things got progressively stranger. His toiletry bag in the bathroom was emptied and items scattered all over the floor. Clothes the guest had set out for the next day were thrown at him in the dead of night. The guest saw a shadow figure at the end of his bed. The figure proceeded to push him down and laugh. When the guest was finally able to leave, he was given another room where nothing unusual occurred."

Our hotel is nice and new, no history of murders or fires or anything like that, just fresh coffee in the lobby, a clean gym, and lots of sockets for charging devices.

A few years ago, while performing in Long Beach, California, we did stay on the historic Queen Mary. This former British ocean liner had been converted into a hotel, and even though the rooms were small, sleeping aboard a ship and strolling the deck was like enjoying a cruise but without the seasickness (or going anywhere, I guess) and was rather cool.

Still, the ship was also rumored to be haunted, having experienced a catastrophic collision with one of its escort ships during World War II. It has been listed as a Top 10 haunted place.

I remember our dancers had a good time with it. Some thought they saw something. Others could care less. But they did make a very funny video that involved bed sheets and strange encounters in the hallways. Last time we were in Long Beach we were likewise at a different, newer hotel.

Jan 31 - Mice Without End

So remember how I talked about how every Chinese New Year our phones get bombarded with greetings of all sorts (see Jan. 24 post)? Well, I don't know if it's because this year's mouse/rat zodiac is uninspiring or, more likely, because people are closely following the news in China and not feeling particularly festive, but this has been the quietest Chinese New Year in recent memory.

I did receive one message that included a traditional play on words. Chinese love homonyms—words that sound exactly the same but mean different things. Yes, these are basically puns. But at least they are punny in Chinese.

The Chinese word for mouse or rat (鼠) is pronounced shǔ. That's also how you say "to count" (數), as well the count in "countless," or "innumerable."

And so my friend used this for the following New Year wish:

"Wishing you and your family:

Innumerable (mice without end) happiness!

Innumerable (mice without end) gains!

Innumerable (mice without end) blessings!

Innumerable (mice without end) health!

Innumerable (mice without end) peace!"

And here are the very few images I received:

Feb 1 - Not From China


The tragic and disturbing news of the coronavirus is something people in our company, whether they have family in China or not, are watching closely and talking about. Meanwhile, we are starting to see the impact of it here, but not in a way you might think.

It turns out many audience members still think Shen Yun is from China. And so they have been calling the theaters and ticket centers to see if the performances are taking place as scheduled. So we actually issued a press release to address this. Here's the beginning part, with a link to the full version below:

With public concern about the coronavirus understandably high, some audience members have been asking whether the company is still scheduled to perform. Audience members are in for good news: Shen Yun is not from China and the performances will continue as scheduled; not a single show has been canceled.

Shen Yun is based in New York, not China. Performers have not been to China in years, have not had recent direct contact with people from China, and in fact Shen Yun is not even allowed to perform in China.

Feb 2 - Steven's Prose

Today's blog is a bit of prose, brought to us courtesy of musician Steven Louie:

The battle cry from each warrior echoes through silent halls.

Each warrior meticulously preparing for a fierce skirmish from which he may not come out alive.

They receive a shave.

They tighten their belts, ready for what's to come.

Not every one of them is the same.

Some are older; some are younger. Some are fatter; some are thinner.

But no matter the appearance, they are eager to fight.

Waiting patiently in position for the right time.

Are they truly ready?

Will the bone-chilling cold make them tremble?

Will the scorching heat make them sweat?

Are they in over their heads?

The truth is, none of them are absolutely ready.

Only the trials and tribulations of battle will tell.

With one last roar of their battle cries, they leap into battle.

With a brilliant General, victory shall be had.

* * *

Steven is talking, of course, about his bassoon reeds:

I asked him how many hours he spends preparing reeds. He said he spent four hours a day, every day, from June to December, to prepare reeds for this year's tour.

Here's Steven's message to other woodwind players who may find themselves teetering on the verge of insanity while enduring such a grind.

To my allied reed players:

They may be bad,

They may be good.

Just do your best,

Just as you should.

Feb 3 - A British Review

Every once in a while someone will forward me a review of the performance that they really wanted to share. Our web designer sent me this one, and I thought it was so neat that I wanted to share it with you here as well.

It comes from an interview with British actress Dannielle Gostling. You can watch the interview here.

And here's one quote from her, in case you don't want to leave the page quite yet:

"I thought it was incredibly profound and incredibly important and the bravery that it takes for people to use their skill and their craft and their artistry to tell a message that's so important."

But really, I recommend watching the video. It is touching, and also so very British.

Feb 4 - Tosca on Shen Yun

If you regularly follow this blog, you know that I usually share a dressing room with our conductor Milen Nachev, who is originally from Bulgaria. The other day, Milen excitedly told me about a review of one of our performances by a compatriot and one of the most famous sopranos in the world—Raina Kabaivanska. She has sung with Luciano Pavarotti and opposite Plácido Domingo. Some consider her the best ever Tosca in Giacomo Puccini's opera.

And, after watching Shen Yun on the afternoon of January 19, Ms. Kabaivanska agreed to be interviewed on camera by our media partner NTD. Here's what she had to say. You can also see her and listen to her speaking these words in beautiful Italian here:

"It was magical! I have just emerged from a magical world of color, harmony, and perfection. I must say that in my life I have seen many performances, many ballets, but such professionalism, really, is rare. I would say there is a spirit to this company, and this spirit guides these marvelous artists. I am really happy to have been here and to have been a part of this magic... It has been a great discovery for me to see the spirit of ancient China reborn, and I express my gratitude to the organizers."

Feb 5 - In Madison/South Korea

Today is our second of two performances in Madison, Wisconsin. We were discussing how Overture Center for the Arts here is reminiscent of some theaters in Japan and Korea—it must be something about how the beautiful wood interior and gray upholstery in the hall combines with floor-to-roof windows in the lobby.

In the lobby, dancer Ben Chen got this picture of a few of our dancers during daytime training. From left: Shawn Ren, Antony Kuo, Bill Hsiung, Teo Yin (hiding), and Jun Liang.

Feb 6 - Thanks Kirk!

What would be a visit to Wisconsin without cheese?

Wisconsin is America's largest cheese-producing state and is home to cheese mart, Mars Cheese Castle, and cheeseheads, as even most meatheads know.

For a while, our visits to Milwaukee and Madison was pretty uneventful in the cheese department, and were rather low on the cheese meter, unless you count MC jokes.

Enter Kirk. Kirk is one of the nicest stagehands you will meet, and we spent some time together setting up on Tuesday morning. Then, before our show yesterday, he pulled me aside and said he had something for me. Out came… a bag of cheese. Cheese curds, to be specific. More specifically, with an alliteration animal award: Bucky Badger Combo Cheddar Cheese Curds.

Today, as we drove through some snow from Madison to Indianapolis, I opened the bag and enjoyed the chewy, rubbery, and totally fun curds while sharing them with everyone on the bus.

Thanks Kirk! Hope to see you in Madison again soon!

Feb 7 - Performing in Ancient Egypt

Long, long setup day at Indianapolis' Old National Centre, Murat Theatre. It's a very unique venue, unlike any other I'd seen before, with a strong and admittedly spooky, ancient Egyptian theme throughout.

The loading docks are well hidden, as they are painted to be part of the murals that decorate the entire building edifice.

The dock gates open right into the back wall of the stage, which this morning meant that the stage was open to the 28-degree outside for a good part of the load-in. Fortunately there's also a Starbucks nearby.

Old National Centre did put up a very nice "Welcome Shen Yun 2020" sign and, from what I understand, tickets for our three performances at the 2,500-seat theater are close to sold out. Two shows tomorrow, one Sunday.

Feb 8 - The Lantern Festival

Happy Lantern Festival!

Today marks the last day of Chinese New Year celebrations. The Lantern Festival is the fifteenth day of the first lunar month and is called yuan-xiao-jie in Chinese. Jie means holiday, and yuan-xiao means "primary night," but also "sweet glutinous rice balls."

These balls are also called tang-yuan (meaning "soup round"), but some Chinese people insist there's a big difference between the two, so be very careful about mistaking one for the other or you stand to get a long lecture about the subtle yet paramount nuances of glutinous rice ball stuffing techniques (if you want to go down this rabbit hole, see this Taiwanese blog in Chinese: "If you mistakenly take yuan-xiao for tang-yuan, you are committing the error of errors!").

What is clear, though, is that the round balls symbolize the wholeness of the family and a wish for a smooth and peaceful year ahead.

And, of course, the local presenter prepared some for us to enjoy on our last evening here in Indianapolis. Here's violist James Hwang enjoying one:

Other Lantern Festival activities often involve going for a night stroll to enjoy the colorful lanterns that decorate the houses (a little bit like going for a drive to look at Christmas lights) and, mostly for children, trying to solve riddles hung from lanterns.

The truth is, on tour we often forget what day of the week it is, let alone what holiday, and most people I wished "Happy Lantern Festival!" to responded with: "It's the Lantern Festival today?" "Isn't that tomorrow?" Or "I thought that was last year."

Back home at our headquarters in New York, the Tang Dynasty-style wooden buildings are decked with dozens of glowing lanterns, each about three feet tall—pink, purple, yellow, green. Those of us who happened to be home for this one year, will remember the lanterns' playful warmth amidst the cool, clear nights and snowy hills.

Those were moments when you want to just stop, look up at the stars, and take in the beautiful sound of stillness.

For more about the Lantern Festival, see "The Tale of the Humble Lantern."

Feb 9 - Perfect Split

How do dancers become so flexible? Are they just born that way? Or do they train from a young age?

Well, these dancers who you see holding their feet straight over their heads, jumping into perfect splits, twirling a leg all around their body and so on, work very, very hard.

Sure, they started fairly young, but really for the most part didn't do too much stretching before their early teens. Some dance teachers even discourage younger children and their parents from stretching too much, especially assisted stretching, as they say it can affect the body's healthy growth—and for someone with professional dance aspirations, good height and healthy limbs are a must.

But even now, as professional dancers who perform every day with great flexibility, they not only maintain, but also constantly strive to increase their range.

When doing a front split on the ground is no longer a challenge, a yoga block is introduced. Then a step. Then a yoga block on a step. And so on.

In this photo, taken by projectionist Regina Dong, the dancers (starting with Yoriya Kikukawa, Pamela Du, and Cheney Wu) stretch in the lobby of Overture Center for the Arts in Madison:

Feb 10 - Unscripted

On stage, microphone in hand, I like feeling like I'm talking to people. And of course, I am, usually 2,000 at a time. But sometimes, with the spotlight in your face and a very quiet hall, it takes some self-convincing that there are actually humans out there—fathers, mothers, aunts, uncles, grandparents, children, CEOs, artists, TV anchors, ushers, and a sound engineer. And then, there are those intimate halls when you can hear every murmur in the audience. Those are my favorite.

Indianapolis was such a hall. So were Baltimore and Fort Worth. I can hear you say, "Excuse me," as you find your seat. I can hear you cough, sneeze, and clear your throat. If you're a child having a tantrum, I can still hear you whimper after your mom took you to the lobby for time out. I can hear your water bottle cap drop and your cough drop wrapper untwist. If you're sitting in the first row, I can hear you think.

And there's nothing like hearing subtle audience reactions. There's of course the rush of a good joke—that moment of suspense right before it and then the tremendous audience release. The subtle reactions, though, are somehow even more satisfying because in those moments, you've been able to capture someone's imagination.

Two seasons ago we had a dance story called Devotion (寒窑). We introduced the background—a debutante reaching the age of marriage; instead of choosing one of her wealthy suitors she falls in love with a kindhearted man of humble origins. Her father is outraged and banishes her from the family. The newly weds are left destitute and alone, living in a cold cave. And then, the young couple is separated when the husband is sent to war, and the wife, we tell the audience, "eagerly awaits his return… for 18 years."

At that moment, without fail I could hear gasps across the hall and an occasional "Oh my gosh." They were ready to watch the dance.

And here in Indianapolis, we seemed to almost be having a dialogue. Me: "Classical Chinese dance has thousands of years of history." Someone in the audience: "Hmmm." A few minutes later, me: "Unfortunately, you cannot see a performance like this in China." Someone in the audience: "Oh wow." And other variations of this kind of interaction, mostly "um-hmms" and "ahs," laughter and giggling and other fun stuff.

And then… we decided to teach the audience how to say, in Chinese, "I love Shen Yun." So we explain how to say it and then comes the moment of truth: We say: "wo-ai-shen-yun," where, to this point, 1,000 times out of 1,000 times that's what the audience replies. And they did again, except… one man waited a second, then chimed in: "wo-ai-ni!"

That means, "I love you."

Was that for me? Not likely. For my partner, Alice? Maybe, I guess. Was it for the whole company? Or was it just a moment of, 'Hey, I can say this, which is similar, and funny.' And it was very funny.

So then, in the silent seconds that ensued, I had to do some quick math: How many other people in the audience know what this man just said? Is it enough of a majority that, allowing for one standard deviation from the mean, at least 67% would get a retort to that ("Thank you, I love you, too," or "wo ye ai ni," or "wo men ye ai ni," or, "Who was that for?" or, "Alice, it's for you.")? Let's see, 2,500 people, minus 5% Chinese, divided by Indiana…

I decided to go with our usual response, which was great, and let the man's affectionate interjection fade into the ethereal multiverse of live theater, yet be eternally recorded in cyberspace.

Feb 11 - We Hear You, Part II

Now, we don't want you to get too self-conscious when you come see our performance or any other. As you can see from yesterday's post, I really enjoy your spontaneous reactions out there, and the dancers do, too. And these reactions run the whole gamut from laughing to shock to surprise to tear-wiping to explosive applause.

Guess what, though? If you're sitting in the first row, you are very close to the performers. And other than the dancers on stage, right behind that railing in front of you in the pit, are people. They're called musicians and, sort of like Transformers, with their powers combined they make an orchestra. They are only a few feet away. And they have good ears.

So first, a few housekeeping rules that should be obvious, but just like dress code for the theater are no longer always obvious. Our orchestra members ask that you please do not:

• Hang your jacket on the pit railing.

• Comment loudly about the music right in the conductor's ear.

• Place nachos on the railing right by the percussion section (why are theaters serving nachos?)

• Put your bottles, capped or uncapped, or glasses of wine on the pit railing.

• Drop anything into the orchestra.

This should be obvious, right?

Alright, so now to the main part. Here is a little collection of what our orchestra members see and hear from the audience:

• Orchestra members often notice the especially beautiful attire audience members in the first row wear: kimonos and full traditional makeup in Japan, hanbok in South Korea, young boys with bowties and girls in tiaras. A lady with a huge, I mean huge, Afro.

• A little boy who was flinging his arms about imitating the moves of the martial artists on stage.

• A few orchestra members have spotted people in the audience wiping tears during this year's Eternal Elegance.

• Double bass player Juraj Kukan says his favorite part of the performance is the opening scene, when the curtain comes up and the audience's minds are blown away. Their faces show it in unison, along with an audible gasp. Juraj is pretty tall, and he stands up for his double bass, so he has a clear view of the audience. Most musicians, though, don't, they can only hear.

• "Oh, superman!" an audience member exclaimed during one magical scene this year.

• One guide dog barked during applause only.

• In Austin, Texas, after the audience was taught how to say "wo ai shen yun" one audience member added: "YEE-HAW!"

• In this year's The Miraculous Flute, some audience members have said: "Oh, yeah!" and "Go get him!" (If you've seen the dance, you know.)

• In San Paolo, Brazil, when tenor Tian Ge started singing and the lyrics appeared on the screen, one audience member leaned over to the lady next to her and started reading the lyrics to her.

• "Oh, look, an entirely Asian orchestra. Wait, never mind."

• "Look mommy! It's the violins, the big violins, and the REALLY BIG violins!"

Oh, one final note. Should the conductor's baton, in a moment of musical enrapture, leave his hand, fly in the air, and land in your lap. Please return it. You don't get to keep it as a souvenir.

Feb 12 - Solitary PM

Setup day in Rosemont, Illinois, just outside Chicago. Spent most of the day at the theater getting it ready for a five-show run. Here's our production manager, Mark Abbott, during a rare, solitary moment on stage (photo courtesy of dancer Ben Chen):

Feb 13 - Dark Stage

"Dark stage till 6pm tomorrow."

"Dark stage till 12:30."

"Dark stage 5:00-6:00."

The stage manager sends us these messages pretty much daily. What is a dark stage?

Basically it's a time you're not allowed to use the stage for any reason. You cannot stretch on it. You cannot practice a dance routine. You cannot enter the pit to play music. You cannot fix tape on the Marley floor, tighten the legs, move the weights, or adjust the curtain. Do not walk across a dark stage. Do not breath, sneeze, or blink near it. Do not get the entire company in trouble.

I put myself in tremendous personal peril to take the above illicit photo of the dark stage here at Rosemont Theatre. I won't get found out, though, 'cause no one reads this blog anyway.

There's a reason for a dark stage. The stage can be a dangerous place in a break a leg sort of a way. You might trip over something or fall into the pit and land on the timpani. And if you do that, you don't want it to happen when the stage is dark and no one is around to be entertained.

Feb 14 - Philly Tough


I hope everyone is staying warm. In the early morning here it was -3 Fahrenheit (-19 Celsius), and it seems a lot of you across North America had to deal with the same. Wasn't too windy (in Rosemont, we are still 18 miles outside Chicago), and the beautiful thing about spending most of the day in the theater is you don't much notice the weather outside.

We do appreciate, though, the effort you audience members make to brave cold, snow, and rush hour traffic to come see us.

We saw it with the audience here in Rosemont, and we saw it last week in Indianapolis, when couples were holding each other's arms, shuffling through an icy parking lot as snowflakes the size of cornflakes poured down.

And this reminds me of one particular crowd in Philadelphia.

It was a weekday afternoon in 2018, and we were performing downtown at the Merriam Theater. Outside, it was cold—very cold. Philadelphia January ice on the ground cold. Inside, we were warming up for the performance. I was suiting up. Musicians could be heard up and down the halls and stairwells of the tiny backstage. Dancers were stretching and jumping and getting a bit of a sweat going. And then the fire alarm went off.

"What is that, is that a fire alarm?" I asked the conductor over a blend of French horn and trombone. This was not as startling as the five a.m. fire alarm in our skyscraper hotel before a two-show day in Gold Coast, Australia, but that's another story. So, out we went.

Outside, in the small alley that leads to the stage door, a few dancers and musicians had already gathered. Maybe because we assumed this would just be a couple of minutes, or maybe because we were so well trained in grade school to just go, no one really got dressed up properly. Dancers were in thin layers, and string players were blowing on their hands. The whole company was outside in makeup, freezing. For almost an hour.

But around the corner, another line was forming—our audience members. On a weekday matinee, these were mostly retirees, and we could see a line of white heads that stretched from the theater entrance, past our alley, and on to the next block along Broad St.

I stared at them for a while. No one fidgeted and no one left. They just stood there in below freezing weather. Were they just Philly tough, raised like Rocky Balboa, drinking raw eggs before dawn and punching meat in freezers before doing one-arm push ups?

We were well past show time when the alarm—which it turned out wasn't even triggered in the theater but in a connected building—finally stopped and we were allowed back in.

The whole company had a collective: "Now, where were we?" moment. We didn't have experience getting ready for a show that was supposed to have already started twenty minutes ago (unless you count those dreams that everybody has where the show has already started and you can't find your shoes, or your instrument, or your costume, or the theater).

We figured we had about 15 minutes, as the audience had to come in as well. So dancers quickly warmed back up. Musicians put on their bowties and kept blowing on their hands. About 10 minutes in, I grabbed a microphone:

"Ladies and gentlemen, the performance will begin in just a few moments. Thank you very much for sticking with us." And I meant it.

All those white heads freezing outside made it in. Not a seat was empty.

We were both very impressed and very grateful to have an audience like that.

Feb 15 - 'Back Leg Hold'

Between two shows in Rosemont Theatre, dancer Liz Lu (which you have to agree is a cool name) agreed to do her stretching in the middle of the stage so dancer Ben Chen could grab this photo. This technique is called "back leg hold," or ban-zi-jin-guan (搬紫金冠) in Chinese.

Feb 16 - Her Rosemont


Last night, my roommate and I set our alarms to the same exact time, and this morning both went off at the same split second. A few minutes later, slowly getting out of bed, I looked at him and asked:

"As a dancer, do you wake up sore after a two-show day?"

"Yeah," he said.

"Is it lame that, as an MC, I do too?"

We've got one more performance here in Rosemont before beginning our colder part of tour with Minnesota and eventually back up into Canada. It's a 1:00pm show (usually it's 2:00 or even 3:00, or I should say 15:00, in Europe). So everything is pushed earlier. Lunch is now brunch, for example. It also means we'll be back early after "striking" the stage and packing up, and have a quiet evening to enjoy our nice hotel.

Hope you are all having a great weekend. And, if you're coming to see us in Rosemont—make sure you've checked your ticket for the starting time. See you there!

Feb 17 - Teo's Turn


Dancer Teo Yin likes to do this bodyweight exercise before shows. Basically it's a one-arm handstand against the wall, and he says it works core strength and stability.

He seems to enjoy doing it precariously close to the orchestra pit. Sure, the proscenium wall is practically the only place to do this near the stage. But I'm guessing he also gets a kick out of looking upside down right into the orchestral abyss, a daredevil aspect of his personality that you would instantly recognize if you've ever seen him go into a full aerial layout.

And how does a young man from Taiwan end up with the name Teo? Well, his Chinese name is Jingyuan, and up until last year his English name was Leo. Last tour, though, we had two dancers named Leo—this Leo, and another Leo from South Korea. The dancers added to each an initial representing their country of origin: K-Leo and T-Leo. T-Leo decided to just blend it into Teo. As far as I can tell, K-Leo has not yet become Keo.

Feb 18 - Rock Climbing

After a successful run of shows in Rosemont, Illinois, we now have two days off straddling a travel day to Minnesota. On Monday, some of the dancers headed out to a nearby rock climbing gym. It turns out dancers have a distinct advantage at this sport: Not only are they light and nimble, but their ability to do splits in every direction helps them stay close to the wall and reach faraway holds with their feet. Even the first timers had a good time.

Here's dancer Betty Wang with a front split at the top of the wall:

Feb 19 - Rest Rules to Stop By

What is the perfect rest stop on the road?

Here are the parameters: You have a bus (or two) with dozens of hungry people. They are tired. They are weary. They are tired of being weary. They want to stretch. They want to eat. Most of all, they NEED to pee.

You also have male and female, Chinese and non-Chinese, late teens and musicians in their sixties.

Got it? Okay, now go find a perfect place for everyone to stop. Did I mention you're on Interstate Middle of Nowhere Express?

Let's start with what is not a good rest stop for our aforementioned travel day situation. Here are three rules of where not to stop:

Rule #1: Avoid rest areas. These are Official Highway Sanctioned Rest Areas marked by blue signs. They are only good if what you want to accomplish is get everyone off the bus, into the bathroom, and back on the bus in ten minutes or under. Otherwise, they have very little purpose for us, especially since we don't have dogs to walk. They have, at best, a vending machine. You want coffee? Maybe there's a vending machine for that, too, with plastic cups. When was the last time you had good coffee in a plastic cup?

Rule #2: Avoid small gas stations. This is the evil twin brother of the rest area. Not that the rest area is not evil. They're both evil. And twins. And also brothers. Just in different ways. Here you can get lots of snacks, ranging from Mars bars to Snickers and all the Milky Ways in between. But there is one, or maybe two bathroom stalls. And they are not going to be clean when you're on Interstate Middle of Nowhere Express. You like dancing in long lines? This is the place for you. Otherwise, keep going.

Rule #3: Avoid getting off to see what you will find. You see an exit sign and it promises a mosaic of fast-food places. "Let's get off here," you might think, "we'll find something." Oh, you're so naïve. What you'll find is your bus stuck at the end of a parking lot, with the only way out involving a 5-foot clearance on the way to the McDonald's drive thru window. "Hi, can I take your order?" "Yes, just one second. What do all 35 of you want?"

After well over a decade of experience on U.S. highways* we have some advice for some good places to stop.

* Canada and Europe are a little different: In Canada, rest stops are actually little shopping malls with the same exact chains: Burger King, Tim Horton's, Sbarro. If you've seen'em once, you've seen a mall. These have nice clean restrooms and plenty of food options. But in three attempts so far, I have not succeeded in procuring anything from Tim Horton's within the allotted 40 minutes of our usual break.

In Europe it's a mixed bag. To be perfectly honest, I think most of my fellow company members would begrudgingly agree that, by comparison to American options, European rest areas are, and I mean this respectfully, awful. They do have better coffee; I'll give them that. But 15 euros for a cold sandwich? And you have to pay to use the restrooms? And the signs aren't even in English?

In reverse order, here are our recommendations:

Favorite Place #3: Love's. This is a big gas station chain that especially caters to truck drivers and long-distance travelers. It often has sufficient bathroom stalls, a wide variety of snacks and drinks, a selection of hot food like pizza, cheese tornados, hot dogs, and other nutritional food, such as Coke. Sometimes they'll have an attached fast food chain as well, often a McDonald's. Can't go wrong with Love's.

Favorite Place #2: TA. Travel Centers of America. There's not much missing with TA other than the C. In addition to everything you find at Love's, you also have Pizza Hut and Taco Bell, maybe even a small diner, as well as all kinds of crystal souvenirs you couldn't possibly need or not break on your travels. TA's are usually pretty roomy with lots of parking. Definitely a safe choice. If you're ever traveling north from Los Angeles to San Francisco on I-5, there's a big one on the right just after you survive coming down The Grapevine.

Favorite Place #1: Pilot gas stations. These merged with Flying J a few years back. Like Love's, you don't really see them in cities, but you see them a lot if you spend any time on I-10, I-40, I-80, I-90, and so on. They have all the basics you find at Love's and TA, but have a wider selection of coffees. Starting last year or so they even began carrying automatic espresso machines that grind the beans on the spot. Staff is ever-friendly, and I think we may have even found kombucha a couple times. Pilots often have a Subway attached, which is apparently a healthier option as far as fast foods go. Should you happen to have in your group a decision maker, and I'm just hypothetically speaking of course, who feels that a Pilot-plus-Subway is the best option, you might find yourself there on every road trip.

Bonus Rest Stop Option: Walmart or Target. Today, though, we did not stop at Pilot, but at Walmart. A Walmart or Target (dare I say Kmart? Probably not) as a rest stop is not a bad choice. And I'm saying this not only because stopping there today was my idea. It's a great opportunity to get a few errands done while grabbing lunch. There are restrooms aplenty, parking galore, and many food options, including healthy snacks like hardboiled eggs, pre-cut fruit and vegetables, protein bars, and keto chips. You can also supplement whatever you ran out of—toothpaste, deodorant, shampoo, and other items that keep everyone fragrant. These superstores are usually conveniently located right off the freeway for easy on-off access, and are big enough that you even get some leg-stretching exercise along the way. And guess what—this Walmart even had a Subway.

Feb 20 - Condensation

Condensation: The process through which water vapor becomes liquid, often when air cools to its dew point. In other words, the sweaty soda can phenomenon.

Today, in St. Paul, Minnesota, our setup was super condensed.

It began with the last two days, when temperatures here hovered around 0 Fahrenheit (-17 Celsius) and dropped as low as -6 (-21). During this time, all our gear was on the truck parked outside.

Then this morning, we unloaded the truck. We went to the loading dock and opened the lift gate. As boxes started coming out, the theater's stage hands were almost afraid to touch them. You know it's cold when the locals who've lived in Minnesota for decades are suffering.

"Man, that pipe is cold," one said.

"Better not stick your tongue on it," I replied.

And then, I added: "You really feel it in your extremities, your nose, fingers, and toes."

"You have toes?" he replied.

As we started unpacking our gear inside the theater, that is when the condensation began. Everything was coated with a white layer of something that had once ben H20. When the equipment met the warm theater air that was kept at a constant 35% humidity, it started to sweat. We wiped down what we could and used fans to dry some of our electronic gear.

Percussionist Brian Marple snapped this shot of the Plexiglas plate used to divide the percussion section from the harp:

By show time at 7:30, everything was nice and ready as usual, and so began our run of six shows in four days.

Feb 21. The Double Double


Today is the first day of our double-double in St. Paul. We've written about the double-double before—in 2013. And in 2015. And in 2018. Twice.

A double-double is a two-show day and another two-show day back-to-back.

This is, as far as I can tell, the only double-double our group has scheduled this year. A couple years ago they were fairly common. On our 2018 tour we had 11 double-doubles, including seven weekends in a row, mostly in Southern California. As tough as the grind was, I must admit we started getting better at handling them after a while, as even some dancers admitted getting used to them. But they are definitely exhausting for everyone involved.

I suppose it's a matter of perspective. If one day we start having triple-triple-triples, then the double-doubles will seem like a breeze.

This one is a little unusual, as it falls on Friday-Saturday. Before, they were almost always Saturday-Sunday, which meant you most likely had Monday off to recover. This time, though, immediately after the double-double we have a matinee on Sunday. So together with Thursday evening opening night, we have six performances in four days. The record is seven, which several companies have done, usually in the format of: 2, 1, 2, 2.

Our conductor, Milen Nachev, would say we have six shows in a row. He has a unique way of tracking shows. He figures there are two slots a day in which there could be a performance—the afternoon and evening. So if you have a show Monday night and another show Tuesday night, you have shows two days in a row, but you don't have two shows in a row. Follow me? What you have is show, no show, show. So, in our case, we have Thursday night, Friday afternoon, Friday night, Saturday afternoon, Saturday night, Sunday afternoon—six shows in a row.

I like to think of every night as a reset. You go to sleep and it's a new day. So after the first two shows of a double-double, you go to sleep, wake up, and the next day there is no more double-double; there is just double.

Dancer Ben Chen says his reset is a nap. If he naps between two shows, then it's just a one-show day.

All this to say, yes, everyone is a professional and used to performing this much. Well over 100 performances every tour, in fact, and dancers dance their heart out for every show. The same goes for the musicians and everyone else involved.

Still, the schedule waits for no one. A double-double could find you when you have a fever. Or a really sore joint. Or be going through something personally. It doesn't matter. We don't have alternates. At 7:30pm, the curtain goes up. It's like magic—somehow, when it does, everyone is in their places, smiling. And there they are again, a little sweatier, when the curtain finally comes down.

Feb 22 - 'I Got You, Babe'

The intersection of Minnesota winter, an email from Uniqlo with its spring collection, and the second day of a double-double has me thinking about... Groundhog Day.

You've seen the movie. A weatherman played by Bill Murray goes to Punxsutawney, Pennsylvania to report on their Groundhog Day events, and whether Punxsutawney Phil sees its shadow or not. He (Bill, not Phil) is unenthusiastic and goes to sleep at the end of the day. When he wakes up at 6:00am the next morning, it's the same day again, with the radio again blaring: "I got you, babe." He is caught in a time loop and nothing, not even driving off a cliff with Phil, can get him out. Until, that is, he gets the day right.

Here in St. Paul, today's schedule is exactly the same as yesterday's. Wake up at the same time. Get on the bus at the same time. Arrive at the theater at the same time, and go through the same routine. Lunch at 11:50. Make up at 1. Curtain down at 1:30. Gather at 1:45. First show at 2. Intermission at 3. Dinner at 5:20. Second show at 7:30. Say hi to the same receptionist at the hotel. Hear the same greeting from the security guard at the stage door. Put the same bag down on the same corner of the dressing room, and give a high five to the same orchestra member walking around the same corner of the same hallway at the same exact moment.

Then go on stage in the same costume and do the same dances, play the same notes, say the same things.

It's a redundant Groundhog Day whose affect is doubled because of the redundancies inherently built in to the intrinsic and integral redundant schedule of a double-double that repeats itself redundantly. It's déjà vu all over again.

Except it's not the same. Every show is just a little different. The audience is different. The way they laugh is different. Today we had one lady with an adorable high-pitched laugh that cut through the rest of the audience's laughter every time.

Sometimes, during the introduction of the orchestra, the audience can't wait to applaud for every instrument. Harp (applause). Woodblocks (applause). Violin (applause). Sometimes they sit there very quietly, leaning forward literally at the edge of their seats, peering into the orchestra pit, waiting for the one moment to applaud the entire orchestra at the end.

"You recovered from yesterday?" I asked one of the principal dancers as he walked past me in the hall about an hour before the matinee.

"Yeah, I'm fine," he says. "Plus, it doesn't matter. People are waiting."

It's a simple statement, and he doesn't mean it in a sarcastic way. What he means is—I'm good enough to go, and how I feel right now doesn't matter; there are people out there who really want to see this performance and be inspired by it, and so here we go.

Just like yesterday. Twice.

For us—this is Groundhog Day, the same exact day again. For most of the audience—they are, for the first time, seeing Shen Yun. And for them, we will get the day right.

Feb 23 - The Greatest Day

Yesterday was the Greatest Day. More specifically, yesterday marked the 40th anniversary of "the greatest day in USA sports history," according to www.VisitStPaul.com.

February 2, 1980. Lake Placid, NY. The Winter Olympics. The United States hockey team squares off in the semi-finals against the Soviet Union. The U.S. team consists of mostly amateur, inexperienced young players; the Soviet team is built around grizzled professionals with abundant international competition experience and a collection of gold medals. In spite of the U.S. playing on home ice, few expected them to beat the mighty Soviets.

Indeed, in the middle of the third and final period, the Soviet Union, with their red uniforms and CCCP across their chests, led 3-2. But then the U.S. team tied on a power play and found the net once more with 10 minutes left.

The 8,500 in attendance held their breath—if one can do that while cheering—as the U.S. clung to the 4-3 lead. Time after time the Soviets attacked the net and fired shots. With ten seconds left, the crowd broke into a countdown and with five seconds left, the last words of announcer Al Michaels during the game were: "Do you believe in miracles? Yes!"

That game became known as the "Miracle on Ice." Two days later, the U.S. went on to beat Finland in the finals for the Olympic hockey gold medal.

As you can imagine, hockey is kind of a big deal in Minnesota, and the 1980 U.S Olympic team's head coach, Herb Brooks, was from St. Paul. He built his career locally, first playing and then becoming the head coach of the University of Minnesota Golden Gophers hockey team just a few miles away, before becoming the Olympic team coach.

Right outside Ordway Center for the Performing Arts, where we were playing, is a bronze statue of Herb Brooks, his arms raised to the heavens, capturing his reaction to the clock running out on a 4-3 win.

Now, 40 years after Mr. Brooks went back to the locker room and cried, after an unlikely victory that meant so much to a nation following two decades of the Cold War, the City of St. Paul celebrated with the Greatest Day Parade.

* * *

We were getting ready for the first of two shows, but we could see from the cafeteria windows parents and their children in hockey jerseys gathering on the street below. At 1pm, from inside the theater, lighting engineer Peiyi Marple captured this quick shot of the very beginning of the gathering around the Herb Brooks statue.

Feb 24 - Iowa Beach

So we have a situation here. Percussionist Brian Marple is on thin ice with lighting engineer and wife PeiYi Marple. See evidence:

On the way from St. Paul, Minnesota, to Omaha, Nebraska we stopped for lunch and, after days and days of only hotel-theater-hotel-theater, wanted a bit of an outing. What can you do in the middle of the winter in the middle, though slightly West, of the Midwest? Walk on a frozen lake. This is Clear Lake, Iowa:

So obvious how it got the name, right? Right?

First thing off the bus was an epic snowball fight:

From which dancer Jason Pan emerged victorious:

This reminds me of the inspiring movie Breakthrough, if you've ever seen it. Based on a true story, apparently.

And a snowman, meant to look like bassoonist Steven Louie. Can you tell who is who?

And so, take that, all of you other Shen Yun companies on the beaches of Florida, New Zealand, and Las Vegas. We have our own beaches here in Iowa.

Feb 25 - Not Just Fake Donkeys

For years, this sentence I found online confounded me. It is about the yangge dance style: "Some dancers use props like the waist drum, dancing fan, fake donkey, or litter. In different areas yangge is performed in different styles, but all types express happiness…" Wait—dancing with litter?

I mean, dancing with fake donkeys I could see. Dancing with drums and fans? Sure. But dancing with garbage? Maybe this is just a typo that's part of an otherwise Chinglish sentence that includes "dancing fans" (like the Fantasia brooms, perhaps). Maybe they meant dancing while cleaning the streets (à la Mary Poppins' chimney sweepers)? Who knows… So, when I first saw this sentence, I shared a laugh with a colleague, and put it aside.

Until this year. This year, the yangge dance returned to the Shen Yun stage. There are quiet a few styles of yangge, and they're often associated with different regions. This year's yangge comes from Shandong province, also the home of steamed buns, Mt. Tai, and Confucius. Our yangge dance does not include garbage, but it does have litter.

It turns out that, if you go through enough dictionaries, you'll find the following definition. Litter: "A covered and curtained couch provided with shafts and used for carrying a single passenger."

Aha! Bride carrying. It's a little sedan hoisted on poles carried by four men, two in the front, two in the back. The poles rest on their shoulders, and as they walk merrily, the poles, and the litter, and the bride inside, bounce on their shoulders.

Litter carrying is represented in this year's yangge dance. Other moves represent wine drinking and beard stroking but, sadly, no fake donkeys.

Feb 26 - Not Buying It

So apparently the Chinese Communist Party is now trying to use the Coronavirus situation to attack Shen Yun.

South Korea, before Coronavirus broke out there, the theater manager in Ulsan received a call from a television journalist. The journalist told him that the Chinese consulate told him that some Shen Yun performers are from Wuhan. This of course is not true, and the theater manager knew it.

He told the reporter: "Shen Yun is from U.S., and most members are U.S. visa holders. And the Shen Yun show is banned in China, and Shen Yun members even are not allowed to visit China. How come Shen Yun members can visit Wuhan? Don't you ever read News about Shen Yun?"

I love this answer.

Yeah, so just to get this straight: A major pandemic has hit China; we don't even know the full scale of it at this point, but we do know that entire cities are under lockdown, people are being cremated nonstop, and the Chinese economy is in dire straits. What does the Chinese government do? It decides to use this as an opportunity to attack its number one enemy—our show. It's like those movies where the villain is falling off the cliff, and he decides to grab whoever he can with him to go down together.

Good thing people aren't buying it.

Feb 27 - Going After Us With a Virus?

More developments in how the Chinese regime is trying to use the Coronavirus to take down Shen Yun (see yesterday's post below).

Apparently they managed—we don't know how yet, presumably through the Chinese embassy and consulates in the U.S. and their various spy organizations—to reach some group of Chinese in Salt Lake City and get them all worked up about Shen Yun coming to Utah.

These Chinese residents of Utah then started spreading rumors that Shen Yun performers might have Coronavirus and the shows should be cancelled. It got so bad that the Utah Department of Health, which was the recipient of many of these calls, issued an official statement on its Twitter account:

"We are aware of several rumors regarding the Shen Yun dance troupe performances in SLC. We have investigated them and have no reason to believe that any members of the Shen Yun dance troupe are infected with COVID-19. These performances pose no risk to Utah residents."

Utah Department of Health spokeswoman Charla Haley added: "We heard some rumors that were going around in regards to the Shen Yun troupe, and we just wanted to make sure people knew it was safe to go to the performance, that we weren't worried about any of the dancers having coronavirus."

That's not it, though. Some Salt Lake City Chinese started calling the TicketingBox hotline, which services Shen Yun's shows, and demand that the shows be cancelled. In a recording I obtained from them one caller demanded to know which Shen Yun group was going to which city, and that Shen Yun's shows be cancelled. When the hotline representative said they are not able to make that decision, this person became antagonistic:

"We will not let you performing. We will not let you in. You want to be stuck in the airport? We will send you back."

Later the same day, another woman from Salt Lake City called and conveyed the same message about cancelling the show. The TicketingBox representative, Al, said he would pass her message on to the local presenter and asked for her number. This woman gave a different call-back number from the one she was calling on. That number, was the same as the first above.

There were other calls as well. Seems like a pretty concerted effort.

Feb 28 - Walking West

Setup day here in St. Louis, the Gateway to the West.

As we walk to the Stifel Theatre in the early morning, we get a view of the Old Courthouse and the Gateway Arch, celebrating Lewis and Clark's westward expedition.

Feb 29 - CCP Girl Talk

More evidence is coming in that there's an organized force behind attempts to sabotage Shen Yun by linking it with Coronavirus.

Today, while having lunch in our green room before the matinee, the local presenter, whom I've known for many years, told me a story.

A few days before Shen Yun came to town, she said, a Chinese friend of hers showed her a message on her phone. It was a group message on WeChat (WeChat is a Chinese app that's like a WhatsApp, Facebook, and PayPal combined). The group, which consists of all Chinese members, is called "St Louis Girl Talk (女人緣)." And the topic of the day was—work together to stop Shen Yun.

"We have five days left to think of a way to stop them from performing," said a group member named Rebecca.

Another lady, named Liu Qimei, talked about how she called and spoke with a lady at the CDC. "I told her to work with Stiffel threath (sic) to cancel the event. I will follow up tomorrow with her and in the same time, tey to talk to tje (sic) director of the Cdc here."

Messages from several other people were along the same lines.

But here's the cool part. The local presenter then picked up the phone and called the theater manager, whom she's had a working relationship with for years. "You're going to start getting some phone calls," she said, "from Chinese people who are being mobilized to try to scare you to cancel the show."

A few hours later, the manager texted her: "5 minutes after I got off the phone with you, I got my first call about it." Of course, he knew what to do.

And Shen Yun had two performances here today.

March 1 - Table Tennis Titans

Our orchestra has been called "the perfect harmony of East and West." Well, today, only moments before the final performance in St. Louis, two key members of orchestra engaged in "the perfect clash of East and West."

Conductor Milen Nachev, representing Bulgaria, and double bass player Yu Deng, representing Canto-China, go head-to-head in a backstage ping pong match.

It got pretty intense there for a while.

Aren't these some of the best-dressed table tennis players you've seen?

March 2 - One Leg Done

After three performances in St. Louis, we're heading back north of the border for performances in Winnipeg Monday and Tuesday. It's a bit of a long drive, so we've broken it up over two days. We arrived in Iowa City late last night with just enough time to check in, get a few hours of sleep, and be on the bus so we can drive away again at 7:00am.

That didn't stop the dancers from getting their work in. When projectionist Regina Dong woke up in a daze some time between 5:00 and 6:00am (she's still not sure when because that's how it is on long road trips) THIS is what she found outside her door:

This is Dancer Zizhen Yu, known affectionately as Zhen-zhen, doing her daily stretching routine. And she seems to be enjoying it!
March 3 - Made in the USA
Shen Yun is from New York. We've always been from New York. We've always said we're from New York.
But judging by what some media are saying now, you would think that the fact that we're saying we're from N.Y. is big news. A paradigm shift. A marketing pivot. A new strategy.
After we issued a press release (link) clarifying that Shen Yun is not from China, performers live in the U.S., and no one has been back to China in a while, therefore we have nothing to do with Coronavirus, a few media outlets treated this like it was a break from what we've always said.
If you're not paying very close attention this can all be confusing. I get it.
'So, let me get this straight: Shen Yun is a performance of Chinese culture, a celebration of Chinese civilization, but you're not from China. But the performers are Chinese, but not Chinese-Chinese, or they were Chinese-Chinese but are now U.S.-Chinese, or from Taiwan, which is part of Chinese culture but isn't part of China today, and in this show you see real Chinese culture but you can't see the show in China?'
Yes, right. It's simple.
Here's the basic logic:
Chinese civilization has a history of roughly five thousand years.
The culture of this civilization has been almost completely destroyed over the last seven decades of Communist Party rule. Some surface traditions remain, but the spiritual essence is gone.
Shen Yun was established in New York in 2006 with the mission of reviving this culture through performing arts.
The artists of Shen Yun are mostly ethnic Chinese from around the world, including from China.
Once they join Shen Yun, they basically cannot go back to China as individuals.
Shen Yun as a company cannot perform in China.
The Chinese Communist Party, through its "diplomatic missions," as well as spy networks and associations, has been trying to sabotage Shen Yun since the very beginning and never really stopped.
None of this is new. We've been saying all of this since the beginning.
On stage, MCs like myself say the following lines in every – single– performance:
"Shen Yun is based in New York. These performers are among the world's top classical Chinese dancers. They receive their training at the New York-based Fei Tian College and Fei Tian Academy of the Arts, where classical Chinese dance is the foundation of their training."
We also say this:
"Shen Yun's mission is to revive genuine traditional culture. Unfortunately, you cannot see a performance like this in China."
On our website, the first paragraph under the About section reads:
"Shen Yun Performing Arts is the world's premier classical Chinese dance and music company. Shen Yun was established in New York in 2006 by elite Chinese artists. They came together with a shared vision and passion—to revive the lost world of traditional Chinese culture and share it with everyone." 
And we go into it in more depth in Our Story section.
And even our print marketing materials—flyers and direct mailers—have included anything from a sentence to a whole spread about this.
For example, opening literally at random, this flyer from 2013:
"AUTHENTICALLY CHINESE, MADE IN AMERICA. Based in New York, Shen Yun is a nonprofit organization that is reviving authentic Chinese culture. Today, you can no longer see a show like Shen Yun in China."
I could go on with this for a long time. We've always explained this in interviews on TV, radio, newspapers, and magazines, for example, and we've done a lot to expose how the Chinese regime has tried to stop us for precisely this reason (more on this in a day or two).
It's just that with the recent climate of COVID-19 and, even before that, a growing anti-China political sentiment in the U.S., we've had to emphasize this point in ALL-CAPS. And BOLD. Maybe even PURPLE.
March 4 - Waited 10 Years
After a day and half driving over 1,000 miles from St. Louis, back through Minnesota, and across the border into Canada, we arrived at very snowy Winnipeg.
"Have we performed here before?" someone asked. "I think Shen Yun has, but I don't know if I have," someone answered.
In the morning at the theater, our bass, Li Xin, pulled out his camera. "Here, look at this photo," he says, "I'm pretty sure it's this hall. I take pictures of every venue I perform in. I was here 10 years ago."
It had been 10 years between Shen Yun performances in Winnipeg, the capital of Manitoba province. Over those years the local presenter, the Falun Dafa Association of Winnipeg—which is really just a couple of people, tried over and over to bring Shen Yun back. Between scheduling difficulties and availability, a decade went by.
Just to give you a sense of what has changed with Shen Yun since the last time we were here: In 2010 we had three companies. Now we have seven. Back then we didn't have Shen Yun Symphony Orchestra or Shen Yun Shop. The main theater where we rehearse in New York was not yet built, nor were most of our offices and dance studios. Our colorful buses were plain white. Conductor Milen Nachev was still two years away from joining us. Most of the performers in this group were wrapping up elementary school or at most junior high. I had more hair. A lot has changed.
And finally, they got Shen Yun back in Winnipeg. For one performance.
Volunteers came in from as far as Toronto to help with catering, ticketing, and backstage work.
And the tickets sold well. They sold really well. They sold so well that, just weeks from opening night (which I guess is also closing night), they asked if they could add another show the day before the scheduled one. In spite of the tight travel calendar, the show was added. But the real difficulty would be quickly selling a couple thousand tickets in a relatively small market.
As we set up for the first performance, the local presenters, in all their humility, apologetically warned us—this was a last-minute addition, ticket sales are not what we would like, and so on. But as the curtain came up, the house looked pretty full. They did it.
We have a tradition that, after the final performance in a city, after we strike the stage and get ready to go, we gather in the cafeteria to thank the local presenters and volunteers.
Their representative, and I'm sorry I don't know his name (we rarely do), said: "A lot of people have been waiting for Shen Yun to come to Winnipeg. Finally you arrived. We hope we don't have to wait another ten years for the next time."
March 5 - 305
Today is March 5, and it's an important date to know.
About ten years ago we were performing in Brussels. I was backstage working on my laptop when our company manager, Vina Lee, walked by.
"Did you hear? Liang Zhenxing just died," she said to me in Chinese.
I hadn't yet heard. I knew that, of a small band of brothers who set out to do something remarkable, he had been the only one still alive. Now he, too, was gone.
His story goes back to early March 2002. In northeastern China, in a city named Changchun, the persecution of people who practice Falun Gong (Falun Dafa) was at its manic peak. Three years into the Chinese Communist Party's persecution campaign, Falun Dafa had not been crushed. On the contrary, facing mass arrests, widespread torture, forced labor, and mounting deaths in custody, Falun Gong practitioners from all across China traveled to Tiananmen Square and held banners holding the words "Truthfulness, Compassion, and Tolerance," the practice's principles. Others hung banners on trees, posted flyers, or flew balloons with messages dangling beneath them.
"Falun Dafa is good," they would often say. "Stop the persecution."
But the machinery of the Chinese Communist Party was relentless. Well-oiled from decades of similar campaigns, most notably Mao's Cultural Revolution, the propaganda apparatus churned out story after story trying to link Falun Gong to every social malice. On every evening's news, people who practice Falun Gong were depicted as insane and dangerous. They were demonized to the degree that if friends and family caught their loved ones meditating, they would turn them in to the police.
It was then that the band of brothers—Liu Haibo, Liu Chengjun, Lei Ming, Liang Zhenxing—decided to try something different. Instead of going to Tiananmen Square for ten seconds of banner holding followed by three years in a labor camp, they would take the message directly to the people. They would debunk the Party's propaganda. They would show the people of Changchun how Falun Gong is practiced freely around the world. How the "self-immolation" was staged. How everyone was being lied to.
Their plan, and the execution of it, is beautifully depicted in Ethan Gutmann's article "Into Thin Airwaves" which later became a chapter in his seminal book: The Slaughter.
They trained and taught themselves how to climb telephone poles, splice wires, and connect transmitters. And then, in the evening of March 5, 2002, during prime-time television, as families across Chanchun sat down for their daily dose of state-run propaganda, the screen went out for a second. Then a new program appeared.
For 50 minutes the veil of official narrative was lifted and a very different reality was broadcast across eight channels to over a million people. Police ran frantically trying to find where the broadcast was coming from. People crowded around TV sets in convenient stores to watch. For 50 minutes, this little corner of China was free.
The small band of brothers knew what this would mean. They also knew what it would cost. One by one they were captured, tortured, and killed.
Police barged into Liu Haibo's home, broke his ankle in front of his wife and toddler, dragged him to the police station, and shocked him with an electric baton until he died a few hours later.
Liu Chengjun was shot in the leg while running away, sentenced to 19 years in prison, and died of injuries within a year.
Lei Ming was captured the night of the broadcast. He was bound to iron chair and tortured. He died of spinal injuries three painful years later.
And Liang Zhenxing, the leader of the small group, was put on a show trial and sentenced to 19 years in prison. There he was shocked simultaneously with multiple cattle prods and shackled for long periods of time. By 2010 he was emaciated and could barely walk or talk. He passed away on May 1, 2010.
* * *
I've met a few people from Changchun who knew these people, knew their stories and what they were like as men. They call the March 5 (3/05) broadcast "305." It's my hope that this day will be remembered and, one day, celebrated across China.
The above abbreviated version of the story doesn't come close to doing it justice. For the full description, which is action-packed and based on detailed interviews with those people who knew the 305 group, see Gutmann's article: Into Thin Airwaves.
March 6 - Easy Days
Our schedule is not so bad. It really isn't. We've got a bit of an intense stretch, but even that, by comparison (in just a moment) is not so bad.
Day 1: A 15-hour bus ride from Winnipeg, Manitoba, to Edmonton, Alberta.
Day 2: Early morning setup (leaving the hotel at either 5:20 or 7:15, depending on your role) and working all day and into an evening performance. That's today.
Day 3: A noon (noon?!) performance. Followed by strike. Followed by a three-hour drive to Calgary. Somehow there's a Korean BBQ stuck in there somewhere.
Day 4: Early morning setup (leaving at 7:15 or 5:20) followed by an early evening show.
That's a sample of what life on tour can be like, and the challenges it presents for everyone: long bus rides, long days, and new cities on back-to-back days.
But, like I say, it's not so bad by comparison.
It's a lot like minor league baseball life, for example. And it's not nearly as intense as the Negro leagues.
A century ago, the all African-American baseball leagues had a much more intense schedule than we do. Players would often play one game in one city, then hop on the bus and play another game in another city the same day. Sometimes they would even play a double-header in one city and then another double-header in another city, or even two other cities, making it a seemingly impossible six games in three cities in one day.
Our schedule is not as intense as what famous tenor Guan Guimin once told me his schedule had been. In the 1980s, Mr. Guan was touring with a performing arts troupe. People around China had just come out of the Cultural Revolution and were hungering for some entertainment. So his company would arrive in one town, setup a makeshift stage, perform for an hour or two, then drive to another city and do the same. It wasn't uncommon for them to be in five towns in one day. Performances started at all hours: 3:00am shows, 5:00am shows, you name it. He said some singers were in such a daze that they would go on stage, entirely forget their lyrics, mumble something unintelligible, and walk off to have another drink. So our schedule is not as bad as that.
Our schedule also isn't as tough as the classic production, the timeless premier performance that has stayed relevant for literally months. I'm talking, of course, about Baby Shark. The Baby Shark Live performance is in a different city every single day. Here's an example off their website:
March 12 - Appleton, WI
March 13 - Dubuque, IA
March 14 – Peoria, IL
March 15 – Ralston, NE
March 16 – Sioux Falls, SD
March 17 – Grand Forks, ND
March 18 – Rapid City, SD
March 19 – Colorado Springs, CO...
Our trip is quite easy by comparison to Tang Sanzang's, who trekked on foot from China to what is now known as India (and back) on a journey that took him 17 years and inspired the classic novel Journey to the West. He didn't even have the benefit of Pilot gas stations.
Our schedule is a piece of cake compared to Navy S.E.A.L.S' hell week, which consists of basically no sleep, running around carrying heavy objects, jumping in and out of the ocean, and being yelled at for five days and nights straight. And they don't have thousands of people clapping and cheering for them every night.
Our schedule is a walk in the park compared to any soldiers out on the front in any time and any place in history. It's a breeze compared to first responders in the days following an earthquake.
Our journey is much smoother than Steve Martin's in Planes Trains and Automobiles, more colorful than Mr. Smith Goes to Washington, and makes way more sense than Citizen Kane.
So what I'm going to do now is get up from this comfortable sofa, grab a snack, and then get back to work in this nice warm theater in the middle of our easy peasy tour.
March 7 - Across From the Butter Dome
Snow, snow, everywhere. We are on our second day in Edmonton, Alberta.
Edmonton, you'll be happy to know, is a city 1,403 miles from the North Pole. It is only 99 miles from the Arctic Circle. And, like all cities, is 0.2 miles from Starbucks.
This building across the way from the theater is locally known as "The Butter Dome."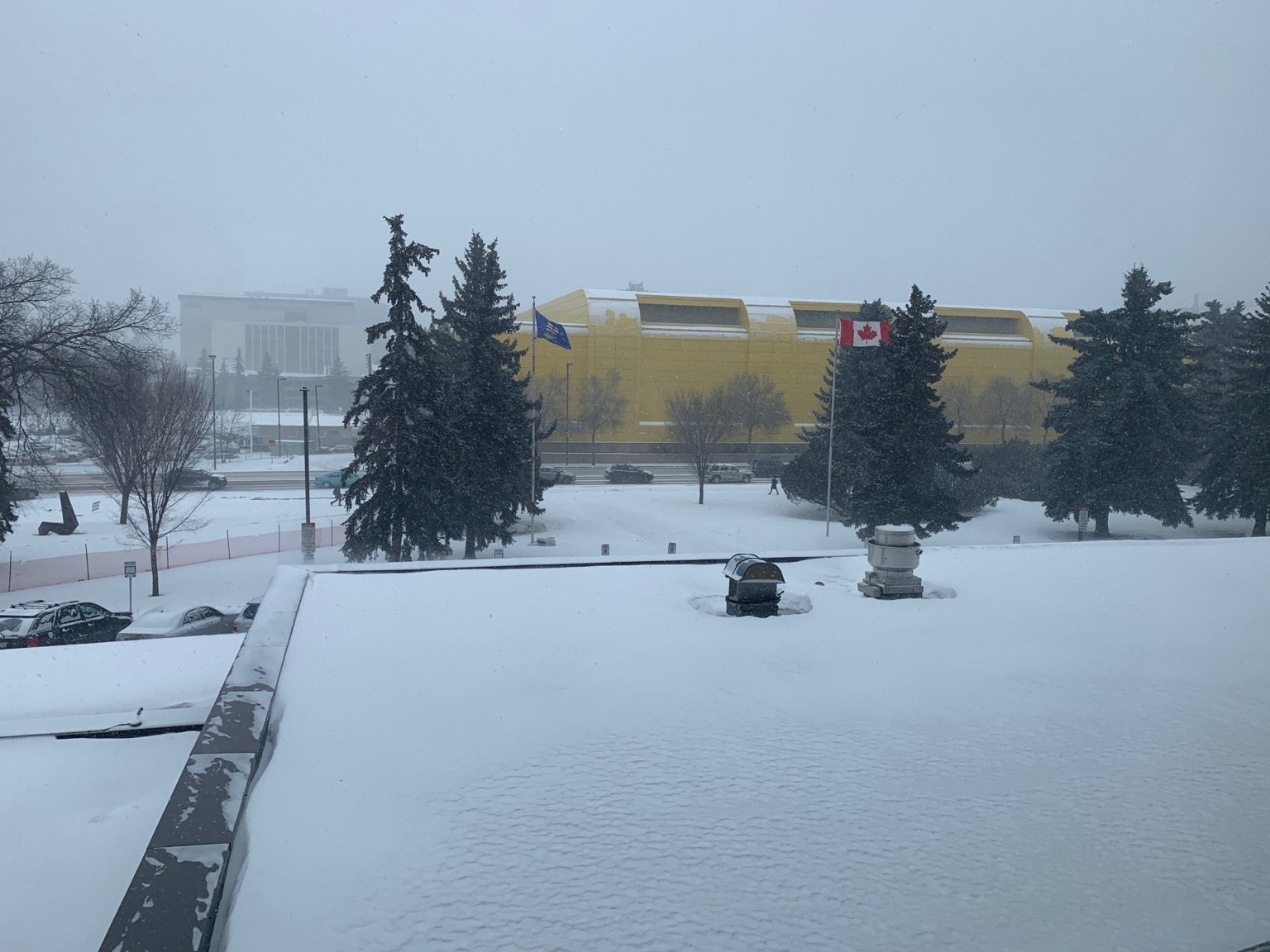 March 8 - The Jubilee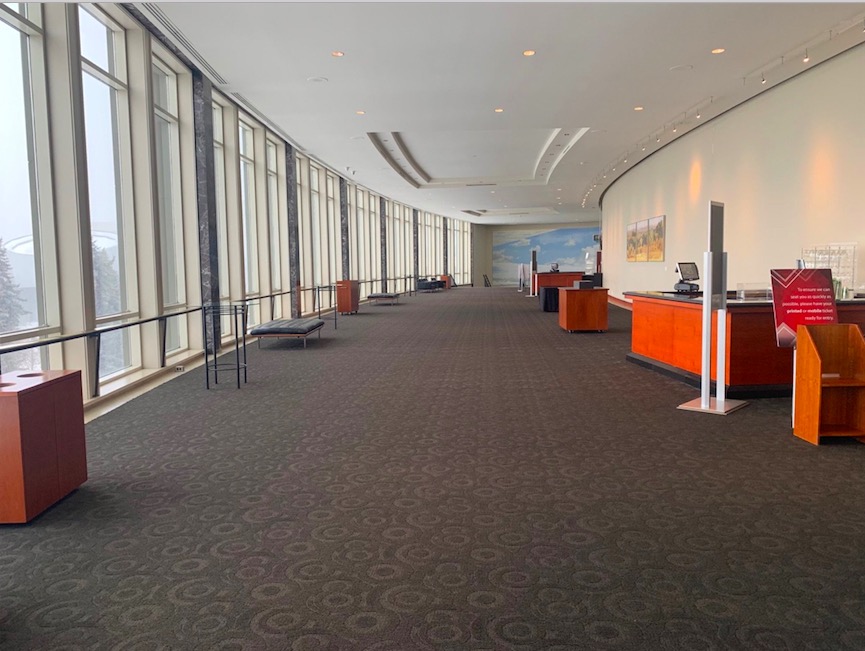 March 9 - Compare and Contrast
Edmonton Jubilee: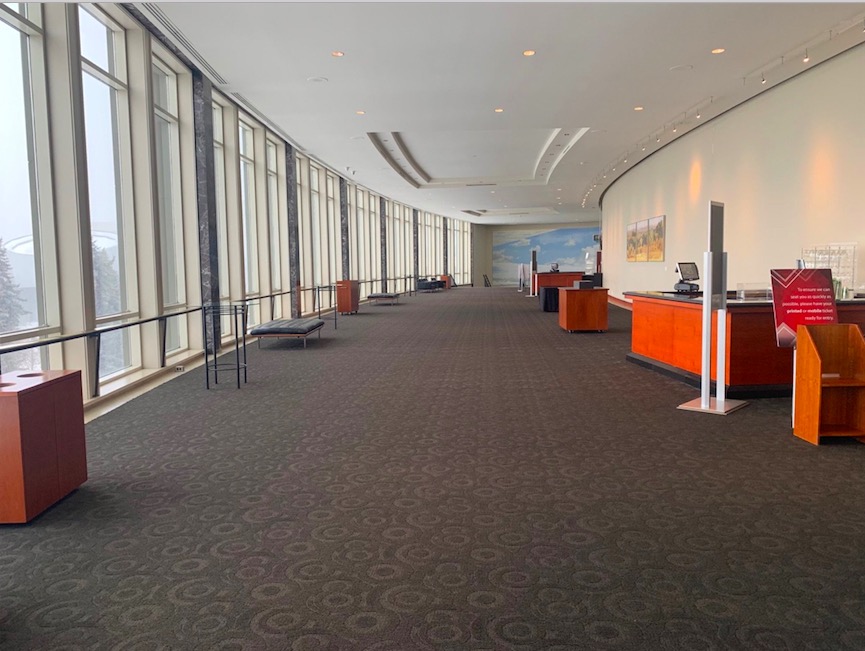 Calgary Jubilee: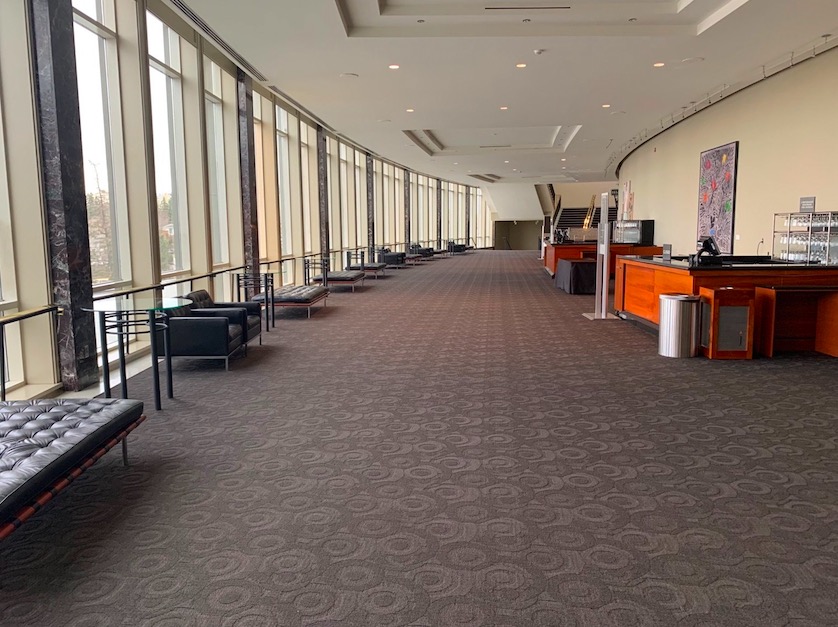 The morning we arrived in Calgary. Before dressing rooms were assigned, all I had to do was just walk back stage, follow the same staircase, go through the same door, make a right down the same hallway, and then a left, and into the same dressing room. Everyone else did the same. I then went up to the stage to look at the hall. Exactly the same as the day before in Edmonton.
NAJA and SAJA. Two jubilees. They are identical twins wearing matching jumpsuits, sneakers, and sunglasses. It's kinda cool.
Also, the theaters are called the Jubilee. Or the Jube, for short.
March 10 - Spot the Difference
Let's play: spot the differences. These photos are brought to you courtesy of dancer Ben Chen, starring dancers Bill Xiong and Sean Ren.
Edmonton Jubilee dressing room: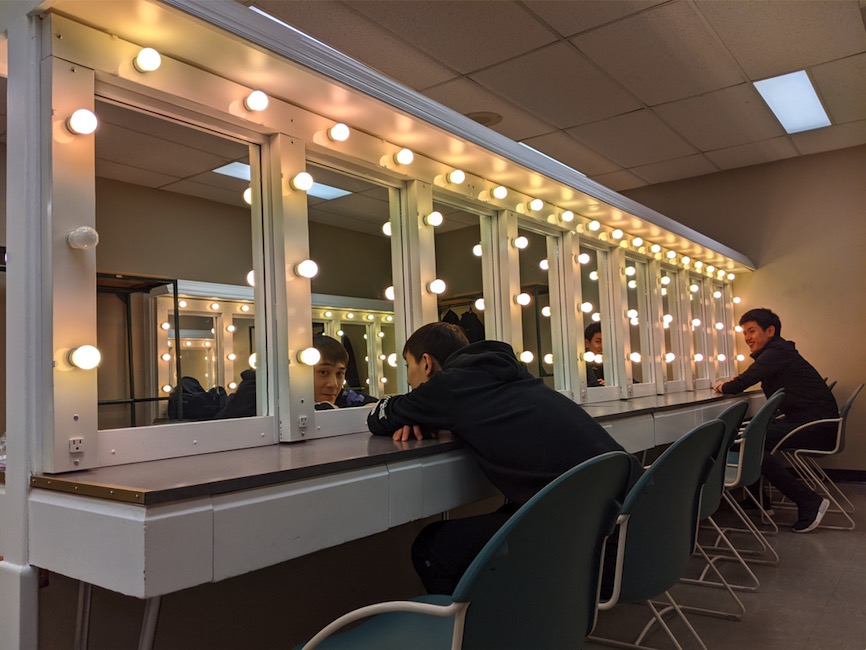 Calgary dressing room: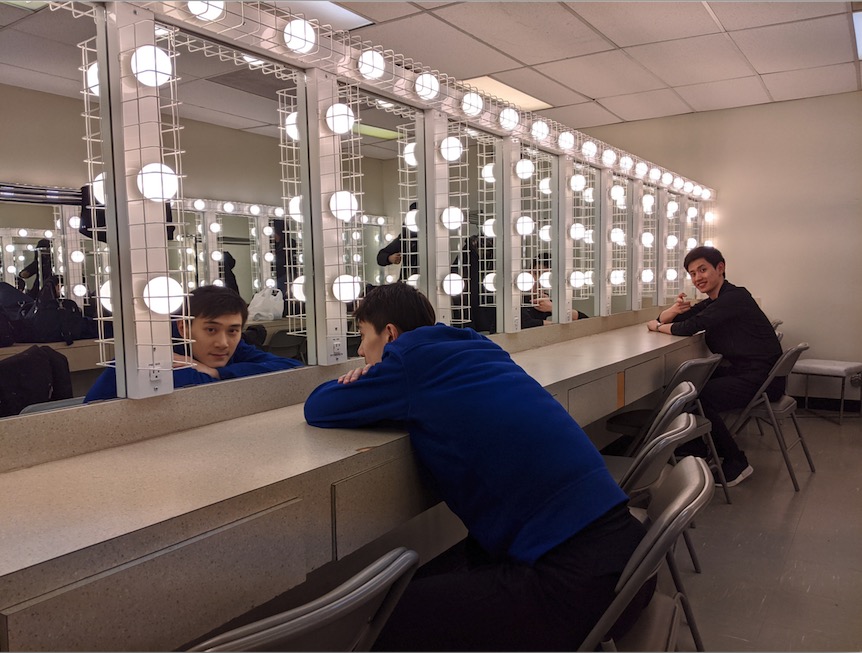 Edmonton Jubilee barre room: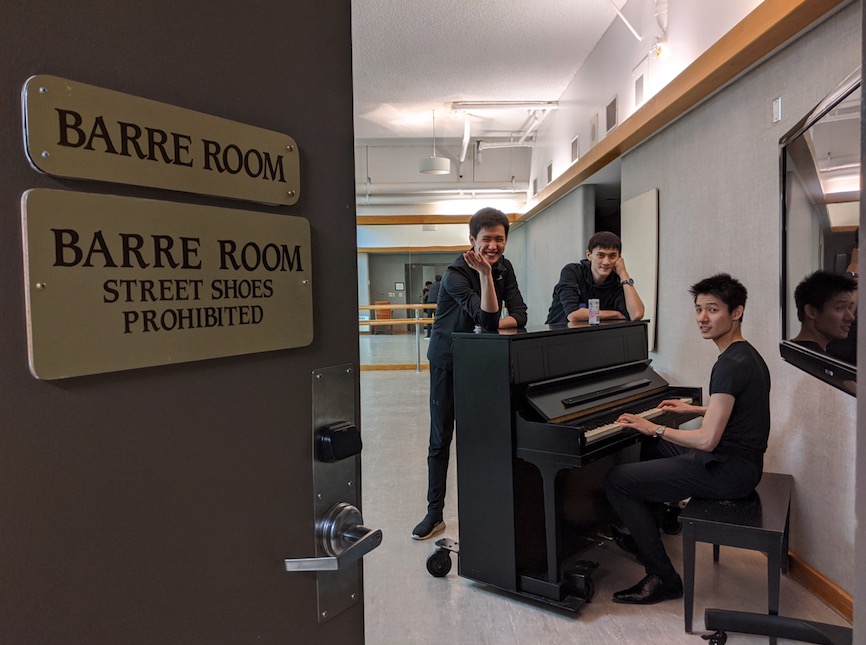 Calgary barre room: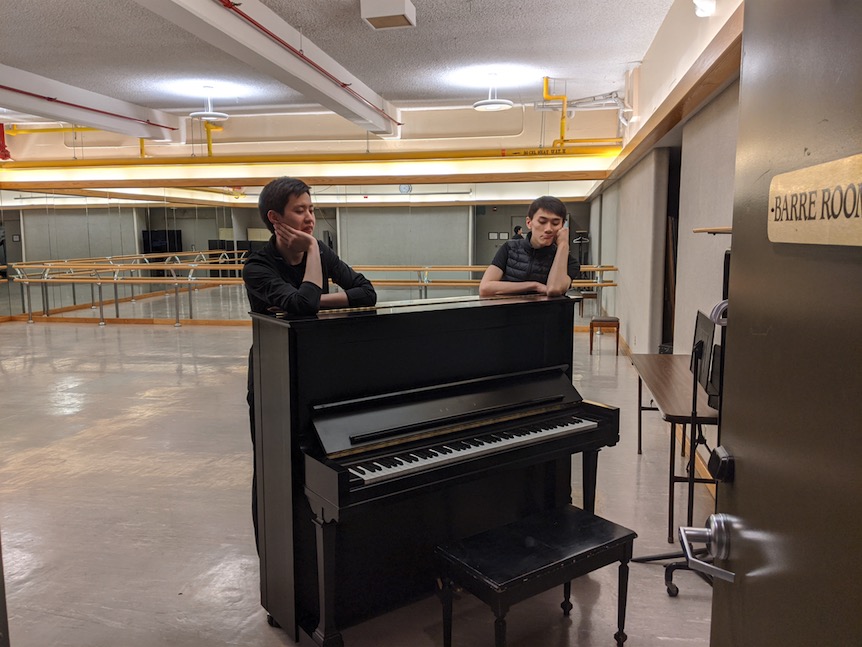 Edmonton green room: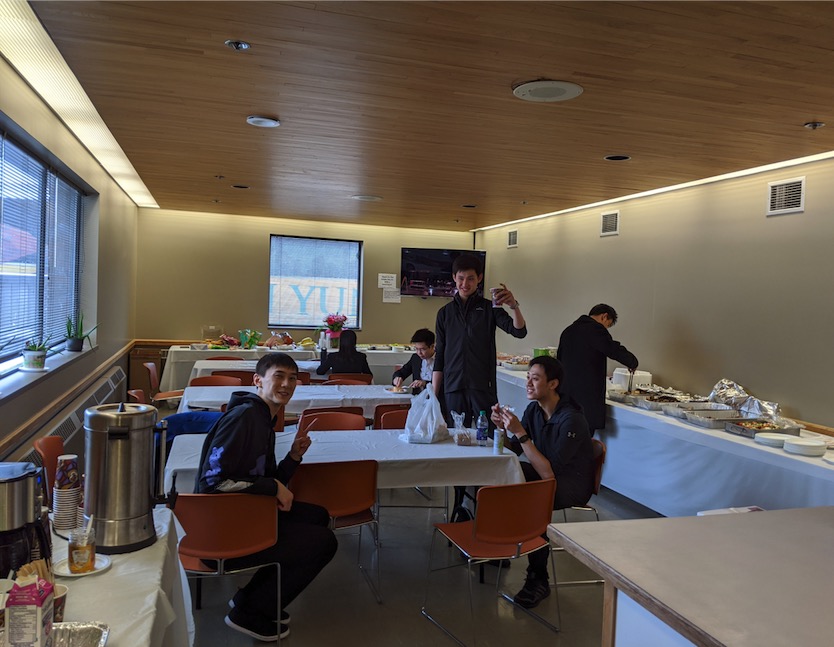 Calgary green room: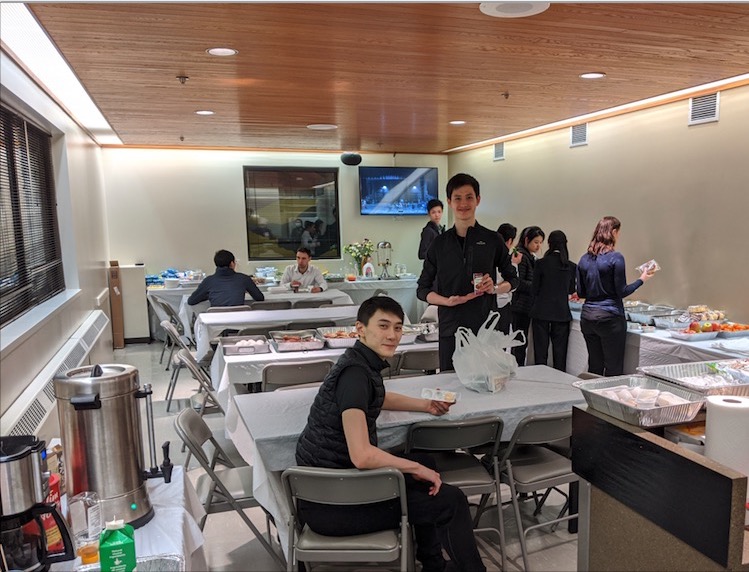 Edmonton loading dock: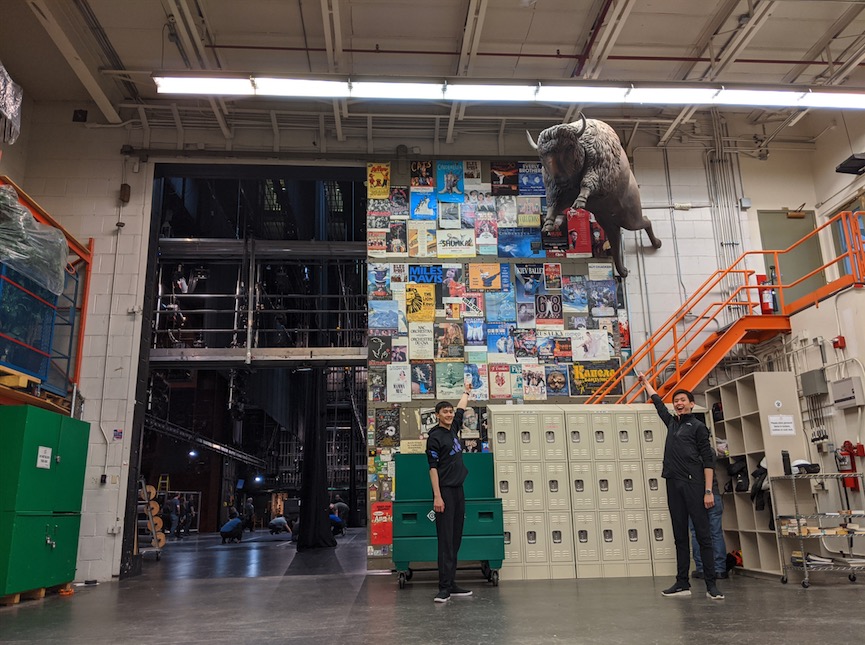 Calgary loading dock: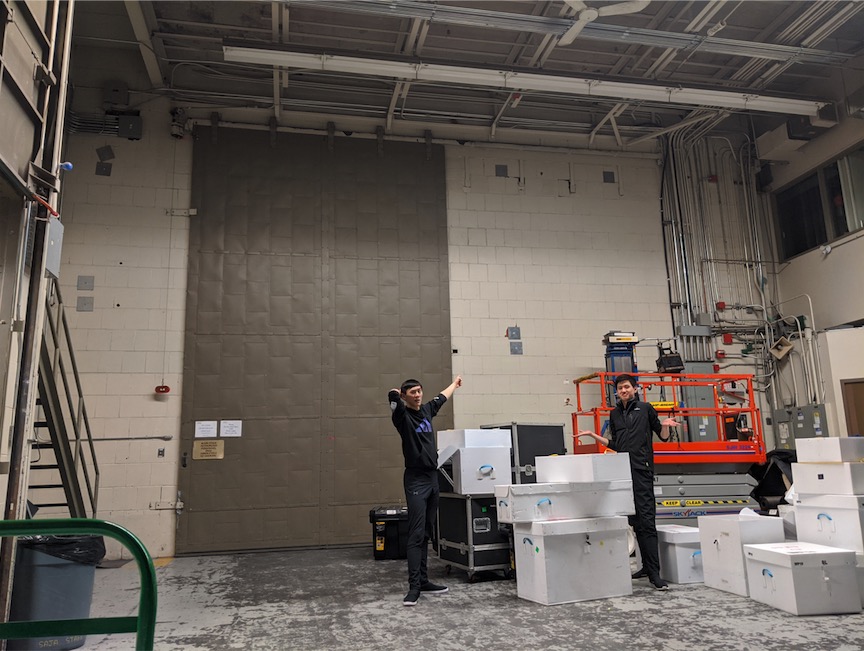 Edmonton orchestra level seating: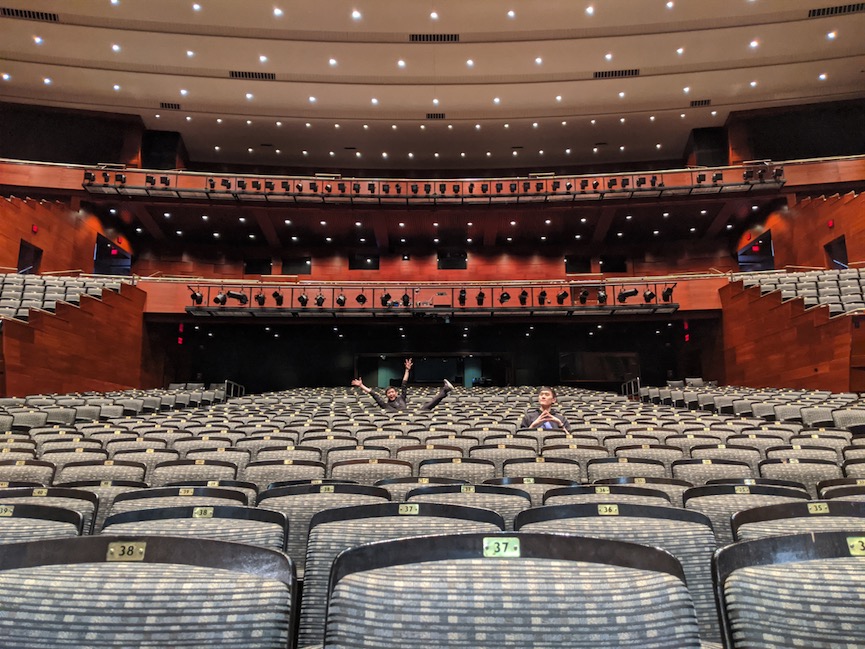 Calgary orchestra level seating: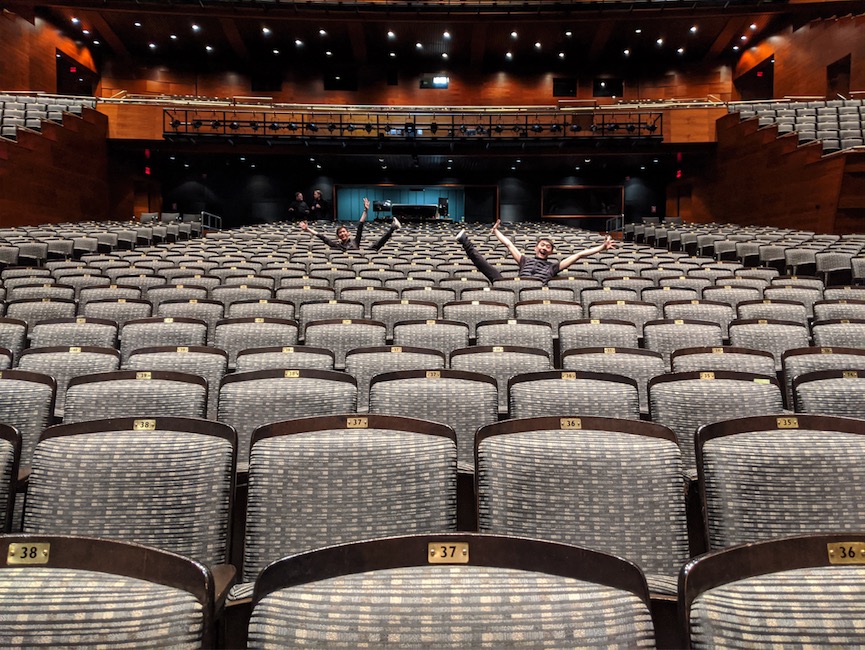 Edmonton entrance: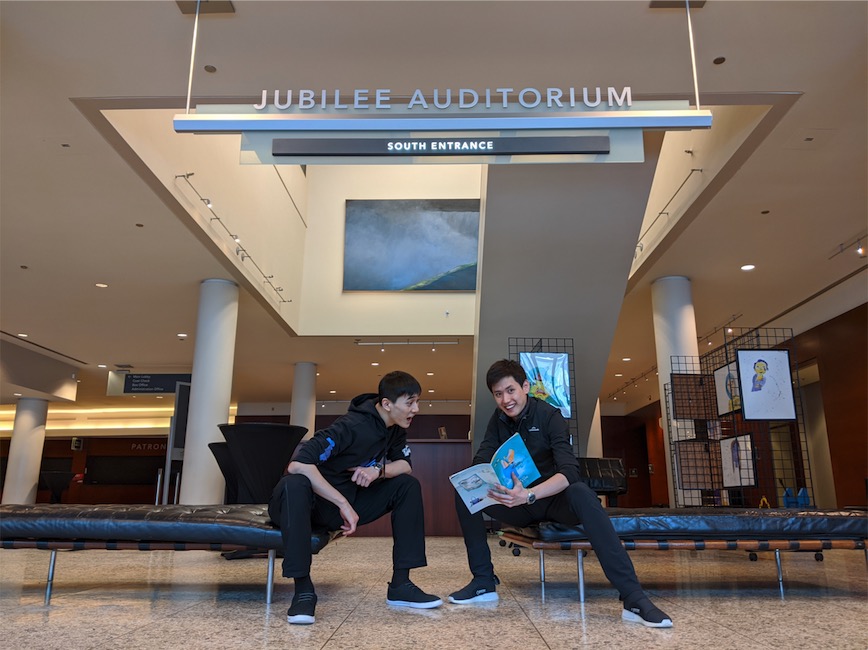 Calgary entrance: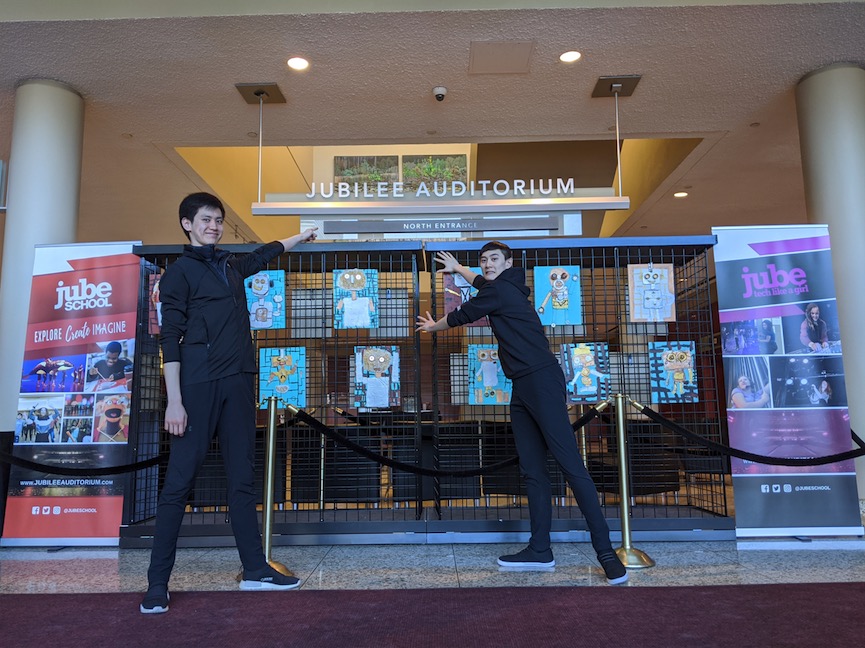 Edmonton staircase wall: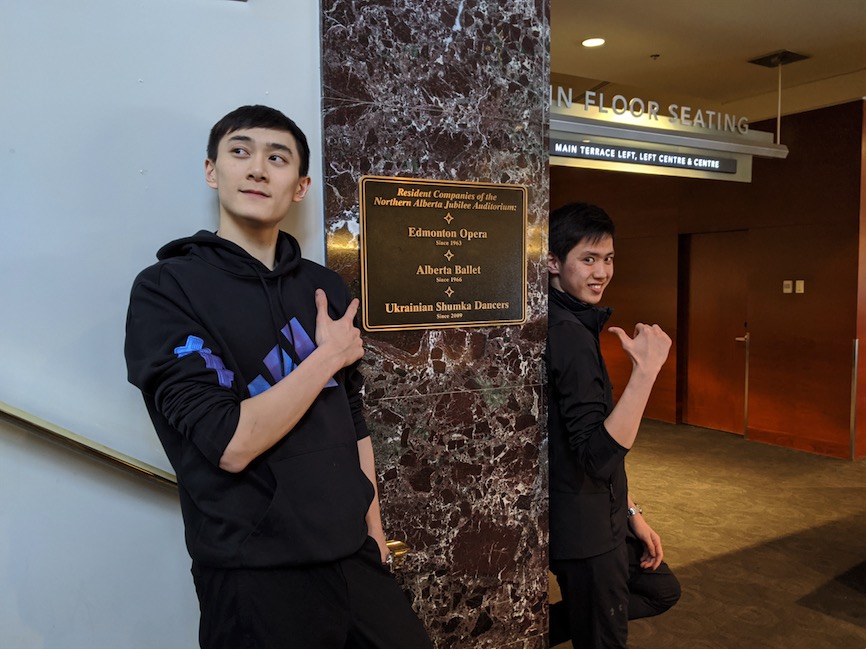 Calgary staircase wall: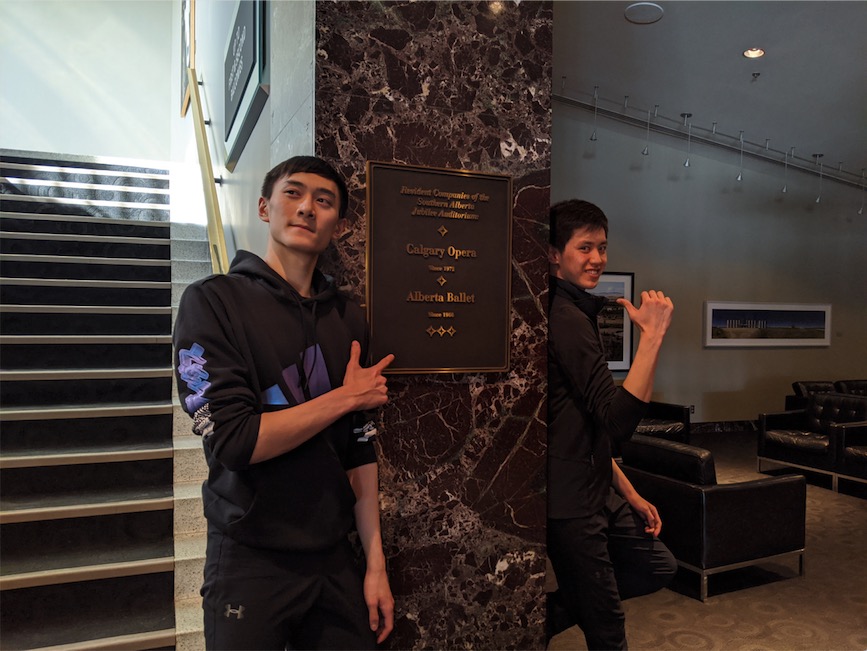 Calgary staircase wall - one floor up. We found a structural difference!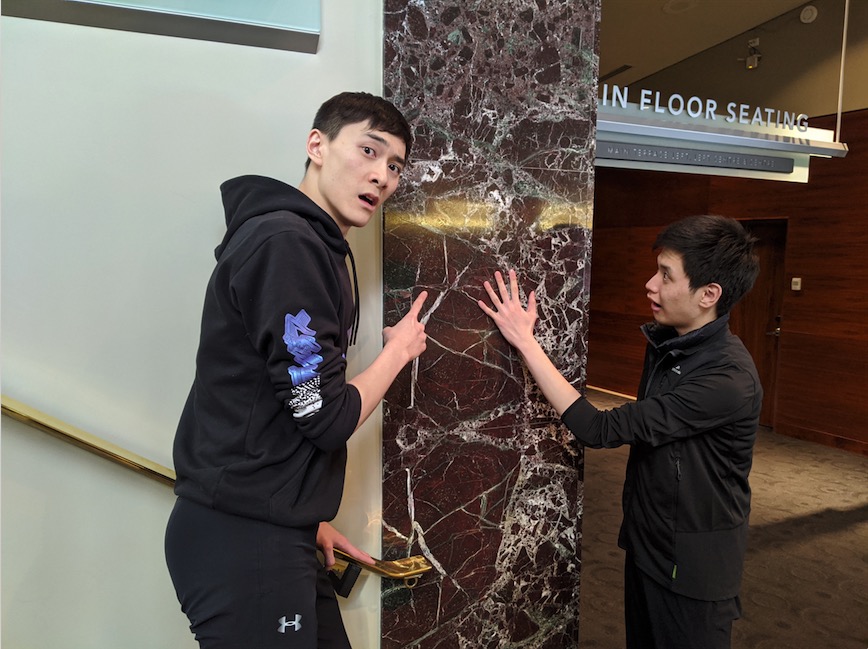 March 11 - White Hatted
Before leaving Calgary for Vancouver, we have a story to tell.
It was May 2007, the very end of Shen Yun's first world tour. It wasn't even called Shen Yun in English then. It was called Divine Performing Arts. A few of the dancers back then are still performing today. Blogger Betty Wang was one of them. As was dancer-choreographer Michelle Ren. I'm mentioning her for a reason—just give me a second.
Many things were constantly in flux that first year, including the program order and the performers. We had one performance for the U.S. holiday season, called Holiday Wonders, another performance for the Chinese New Year, and yet another performance for the tour itself.
Because at the time we had only one performance group (seven today) we truly had a whirlwind tour across the globe, covering four continents in six months. We started in the U.S., went to Canada, came back. Then we flew to Europe for the European tour, which that year consisted of two cities—Paris and Berlin. From there it was on to Asia, but not before stopping "on the way" in Chicago.
That stop was eventful, as on the way in our plane was struck by lightening. I remember seeing the bolt flash outside the window, the lights in the cabin instantly go out, the sound of the engines stop, red emergency lights flicker on, the plane do one of those rollercoaster gravity-suspensions where you hover for a second then drop while still horizontal. Then, the lights and the engine noise came back on and the flight continued. That whole thing took maybe 2 seconds.
It actually proved to be good material. Opening night in Chicago, MC partner Zhou Mei and I came on stage and said:
Leeshai: Ladies and gentlemen, welcome! It's so great to be here in Chicago! Especially because on our way in yesterday, we were delayed coming into O'Hare, circled around Lake Michigan five times, and were hit by lightening.
Mei: Which is a sign of good luck!
Leeshai: Maybe in Chinese culture...
From Chicago, we flew to Japan and performed there half-groggy the next day (or was it the day before?). We continued on to Australia, New Zealand, Taiwan, South Korea, and then... Calgary.
In Calgary, we were welcomed at the airport with flowers and signs and cameras and such. Except, this time, there was also an official city representative to greet us.
Deputy Chief Executive of the Calgary Tourism Bureau Joe Connelly, on behalf of the Mayor of Calgary and the city government officiated a little ceremony.
First, he awarded Honorary Citizen Titles to our soprano Feng Ming, tenor Guan Guimin, and choreographer Vina Lee.
He then issued Certificates of Honorary Citizenship and presented each honoree a white cowboy hat.
Now, as great as the Internet is at remembering things, it was pretty hard for me to find the news from that welcome. But eventually I did. The photos really give you a sense of how long ago this was. They're not quite black and white, but they're definitely pre-iPhone SE 12MP cameras.
So here are two photos. In the first, you can see all the Shen Yun performers who were honored, although I can barely make out who's who (maybe a fun online contest?). In the second, though you can recognize Michelle Ren.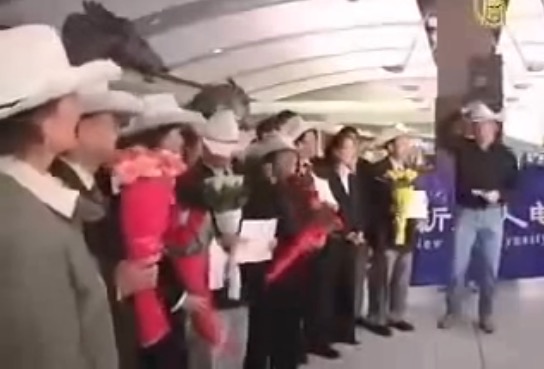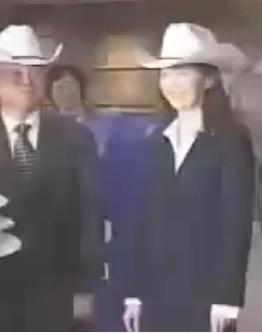 All the performers then gathered behind the honorary citizens who had just been "white hatted," and, following Connelly's lead, looked at the cameras, doffed our hats (real or imaginary), and yelled: "Ya-hooooo!"
That footage has got to be somewhere...
March 12 - Last Post?
We're in Vancouver. And...
Today, at 7:30pm our production manager sent out a schedule for tomorrow's load-in: 7:45am leave hotel, start setup at 8:00am, sound check at...
At 8:38pm he sent out this message: "Can everyone please come to the food room now?"
Five minutes later we got the news—Vancouver shows are canceled. We're going home.
Is the rest of tour is canceled? Don't know.
Because of the virus? Yes. All public events in the city are shut down.
What about us going to Europe? Don't know.
What about the other groups? Don't know.
Oh, and dinner is here. You can go eat now. And pack snacks for four days on the road.
So... this may be my last blog entry, at least for now.
Post-Blog Script
Still not sure what to make of this, or what's ahead. I do know we'll be back. I'm hoping it's very soon, but clearly something big is going on. Into the unknown then...
I really want to thank all of you who've followed this blog.
To be honest, when we first started I didn't know if anyone would want to read this. It even seemed a little indulgent. But your comments have been truly encouraging. They've showed me that, at least among our Shen Yun fans, people want to get to know our artists better. You want to get to know these dancers and musicians as people, to know what they are like and what life performing and traveling every day is like for them. There's a lot of joy in what they do, and a lot of fun, too. I hope you've been able to see that in these stories from behind the scenes, and I know you can definitely see it on stage. It really is for you that they perform.
And we can't wait to see you and perform for you again soon!
In the meantime, please be safe and hang in there everybody!

Leeshai Lemish
Mestre de cerimônias