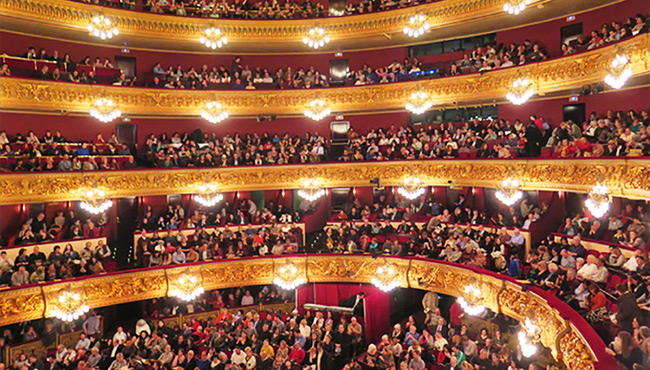 Two Parallel Worlds
The evening we arrived in Nice, on the French Riviera, I went out for a stroll on the boardwalk. It was an eerie feeling, being there so soon after the slaughter that took place there last year. Scattered along the sidewalk were monuments of rocks arranged into heart shapes, and old, dry flowers. The following night, we were in the center of town, in a theater, on stage, introducing a performance of beautiful dance and music. A performance full of inspiration and hope. A performance, it seemed, from another world.
Throughout our Shen Yun tour of Europe this past spring, it felt like terrorism was always around the corner—the shooting on the Champs-Élysées and the Westminster Bridge attack both happened within hours of us being there; the more recent attack on La Rambla was just outside our theater.
This was not Afghanistan or Syria, or Israel, as it was in the '90s when I went to high school there; this was Paris and London and Barcelona. And yet, inside the theater we saw a very different world—a world that once was good, and could be again.
In truth, the world that Shen Yun depicts—the lost world of ancient China—cannot be seen anywhere else, not even in China today. Our theme is "5,000 years of civilization reborn," and that is what the performance is about. It is taking the best and most magnificent elements of traditional Chinese culture, a culture that had been destroyed under decades of communist violence, and sharing it with the world through performing arts.
In the process, we have discovered that it's really not just about Chinese culture, but about what we share in common as people, and our common search for hope and meaning.
The way Shen Yun does this is unique—it is by looking back while looking forward. The show's main art form—classical Chinese dance—has a history of thousands of years; it's as athletic and breathtaking today as it must have been when emperors watched it performed in their palaces. The dance is accompanied by a live orchestra, which seamlessly blends classical Western and Chinese instruments. The lighting is simple yet perfect, enhancing the bright colors of the costumes. The animated backdrops extend the stage and instantly transport the audience to other times and places, and even worlds hidden from the human eye. Stories and legends from the past, and the lessons and virtues they entail, are instantly brought to life.
And the performers' approach is unique. They perfect their art by looking inward, nurturing their spiritual growth as part of daily life. They require of themselves a level of selfless giving that moves the audience to tears night after night.
Back home in New York, we're now preparing for a new season. It's a time of year when a chill is in the air, rehearsal hours run long, and much work still remains. But even as we balance hard work and enjoying time at home, part of us can't wait to get out the door and share Shen Yun's message of hope where it's most needed—around the world.

Leeshai Lemish
Master of Ceremonies
13 de setembro de 2017