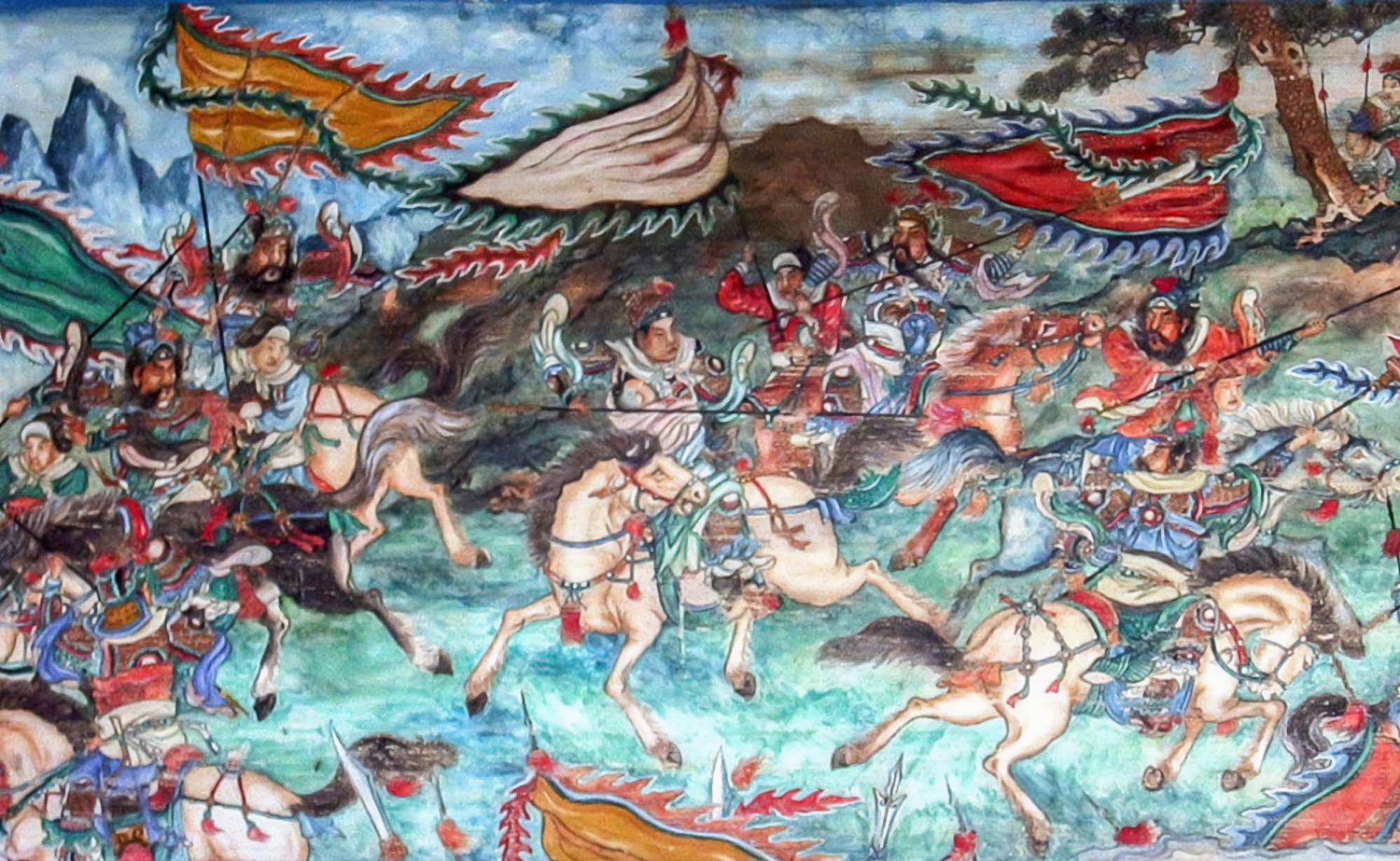 Riding Alone to the Rescue: The Story of Zhao Yun
It is the third century, and China's mighty Han Dynasty has crumbled. In the chaos that ensues, a wellspring of heroes and brave men emerge. Among them is the famed Zhao Yun, the right-hand man of benevolent commander Liu Bei.
Zhao is the consummate soldier—loyal, untiring, and invincible. One story of his heroics has captured the imagination for centuries. It tells of how Zhao charged behind enemy lines in a desperate attempt to rescue his lord's wife and son. The tale was most famously recounted in the classic novel Romance of the Three Kingdoms, itself written over 700 years ago.
In 2023, Zhao's story was featured in Shen Yun's dance drama Riding Alone to the Rescue. Here's how the story goes:
Into the Jaws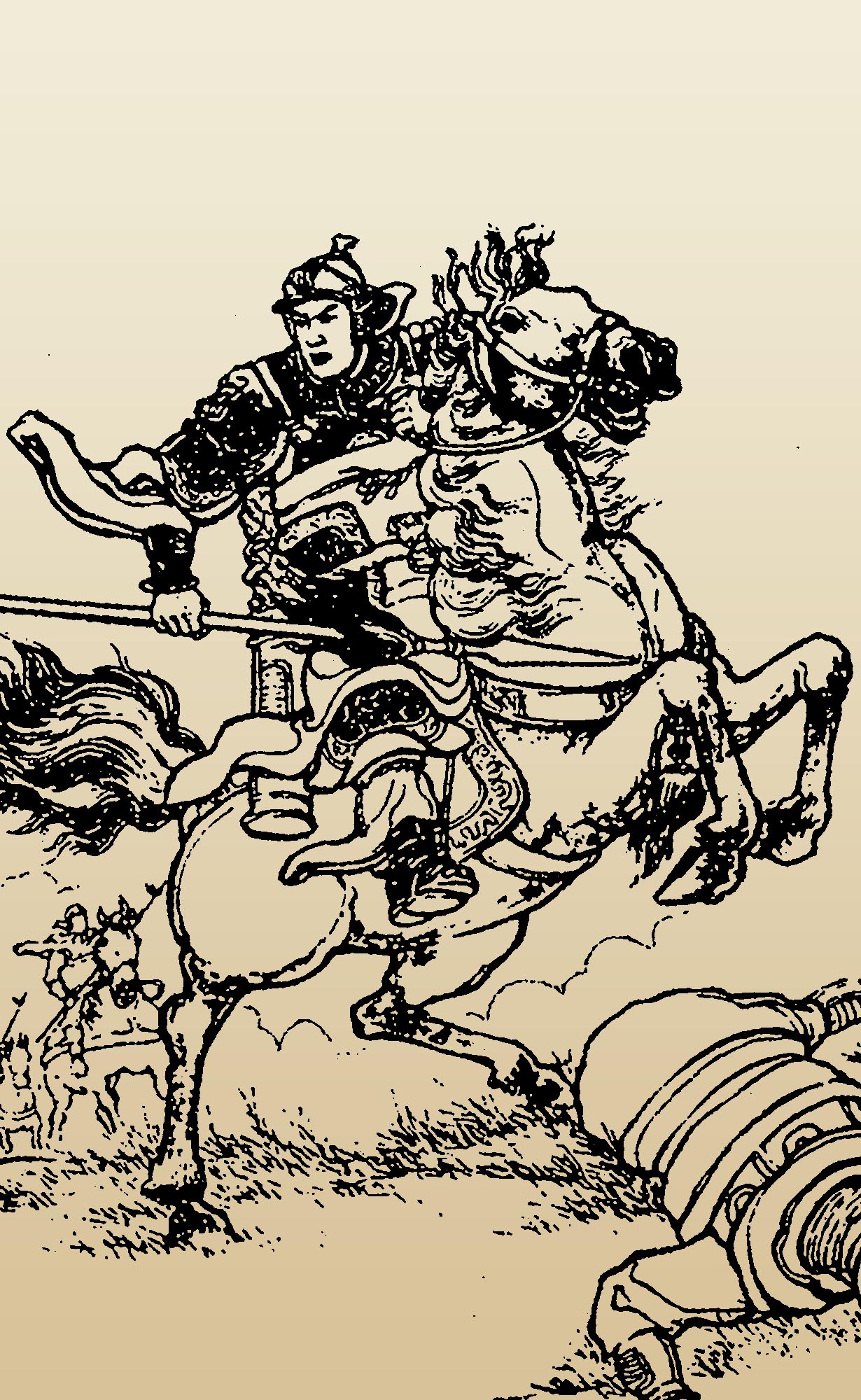 In the aftermath of the Han Dynasty's collapse, rival kingdoms and armies fought to reunite the empire under their flag. Though often outnumbered by his enemies, the great commander Liu Bei's kind nature and kingly spirit won the hearts and support of the people whose territory he had to cross. They voluntarily left their homes and villages and followed him and his army with implicit faith—and Liu Bei welcomed them and took care of them with open arms.
This may have been a good move for the people, but it was not tactically advantageous for Liu's army. The thousands of migrants and their baggage have to be guarded, which is weighing down the army and hampering his retreat from the powerful general Cao Cao, who is bent on exterminating Liu and his army.
Liu's forces are progressing slowly, and the enemy is continually gnawing away at their tail. Liu decides to entrust our hero, Zhao Yun, with protecting a group of people that includes the lord's own wife and infant son.
The group, like most others, is falling farther and farther behind and is eventually separated and lost in enemy territory. His charges now at risk, Zhao begs Liu for permission to plunge headfirst into the jaws of the enemy and find them. Liu refuses; it's a suicide mission. Zhao is determined and vows to either bring them back or to die trying. With much reservation, the commander relents and Zhao dashes off.
Stone Wall
After defeating dozens of enemy soldiers and running his horse half to death, Zhao finally finds mother and child, and hastens to them. Lady Mi, for that was the name of Liu's wife, had been stabbed in the thigh and could no longer walk. She sat huddled beneath the stone wall of a partly demolished house, nursing her only child.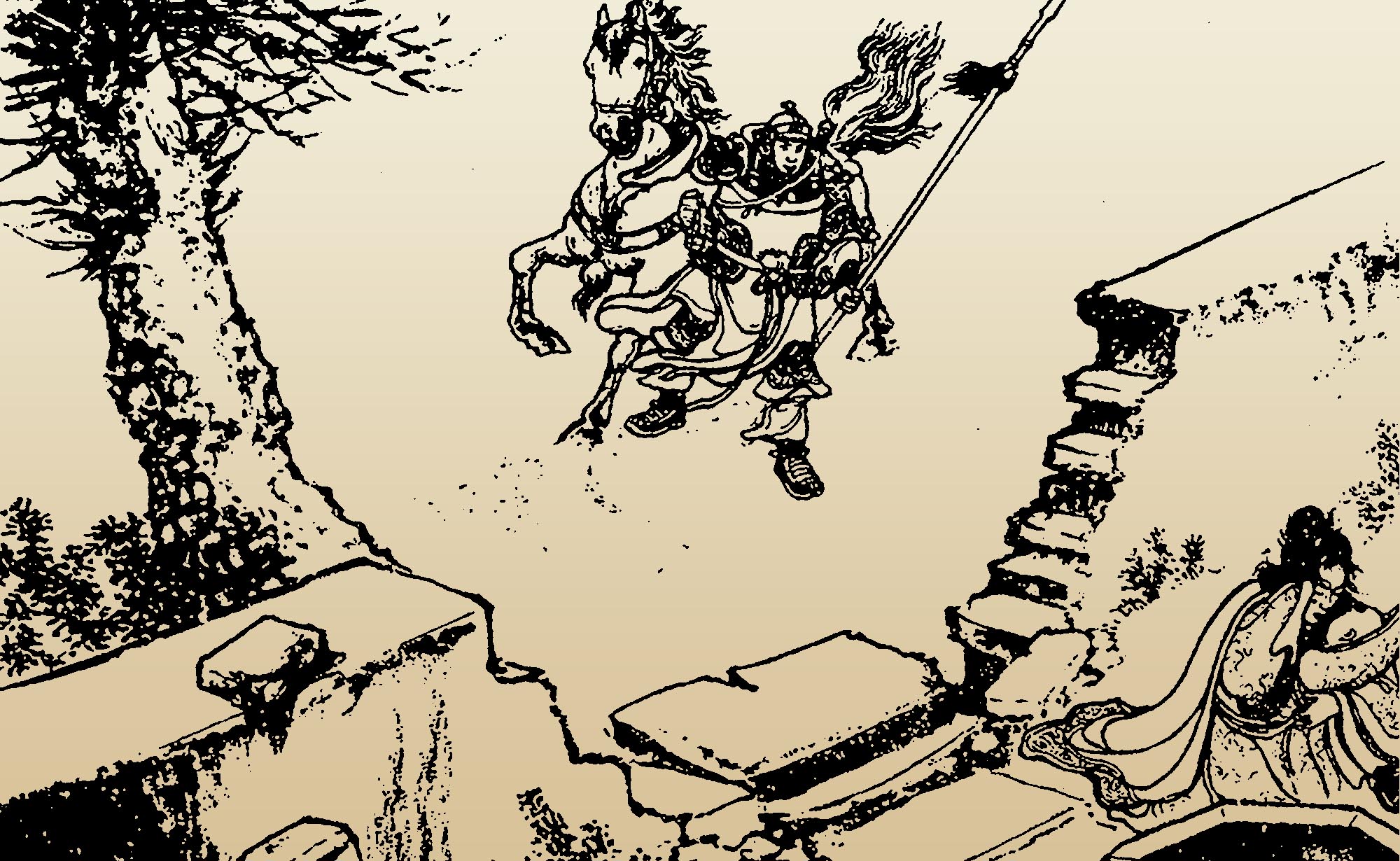 She rejoices at seeing Zhao's familiar figure and beseeches him to take the baby safely to his father.
"Let's go together, my lady," Zhao entreats.
"No, I can no longer walk. I will only slow you down and none of us will make it out. Leave me."
Zhao refuses.
"Take the baby and go!"
Zhao again refuses.
"I command you!"
Zhao kneels before her, raises his hands, and receives the baby in his outstretched arms. As he wraps the baby, Lady Mi sneaks away, crawling to the mouth of a well. Zhao turns around just in time to see her disappear into its depths.
Zhao is horrified as the first object of his mission perishes before his eyes. Vowing to fulfill the mission she entrusted to him, he topples the remains of a stone wall nearby so that her body would not come to shame at the hands of the enemy. He picks up the crying infant.
A Rendezvous With Cao Cao
Tying the baby to his breast just as enemy soldiers approach, Zhao levels his spear and charges into the hostile zone he had just fought out of. Quickly liberating nearby aggressors from the burden of their lives, he flies off in the direction of his lord and his new camp.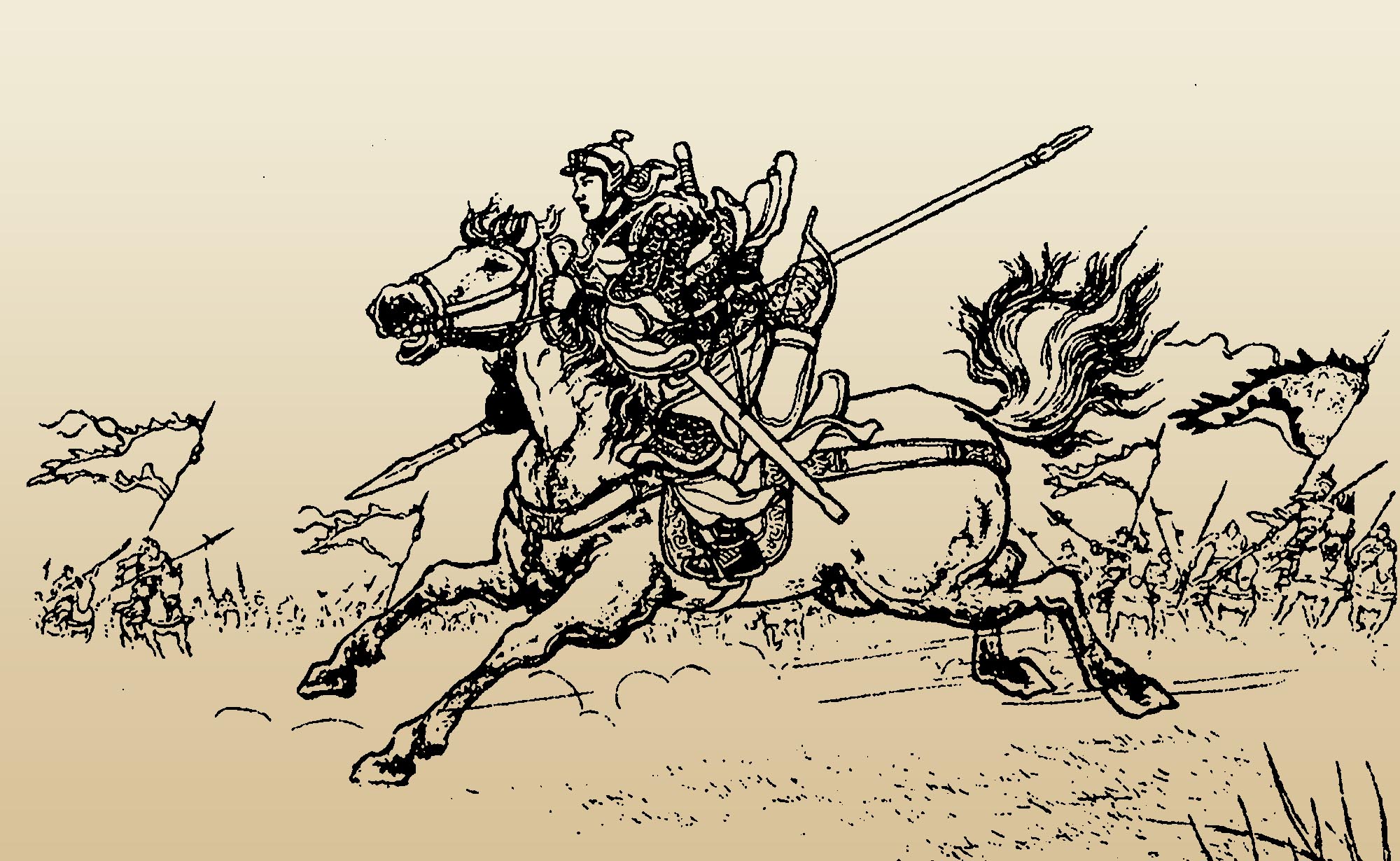 Zhao gains a white steed and gallops on for a considerable distance. Two troops of Cao Cao's men emerge on the horizon making directly for him, and a quick look back reveals another two groups hot on his heels.
Even a small army at the hands of a general would have succumbed to this superior force, but our hero dwarfs generals and even entire armies. He cuts down the captains of the two forces in his way and swiftly deals with the avenging warriors with a few tricks of his spear. The rest of the men, in a display of good reason, take a hint and flee.
A little farther away, overlooking the spectacle of this one-man army, is the head of the opposing forces, the formidable Cao Cao himself.
"Who," he asks, pointing at the thrashing speck on the battlefield, "is that?"
His lieutenant runs over to inquire and returns with name "Zhao Yun, also known as Zhao the Dragon's Son."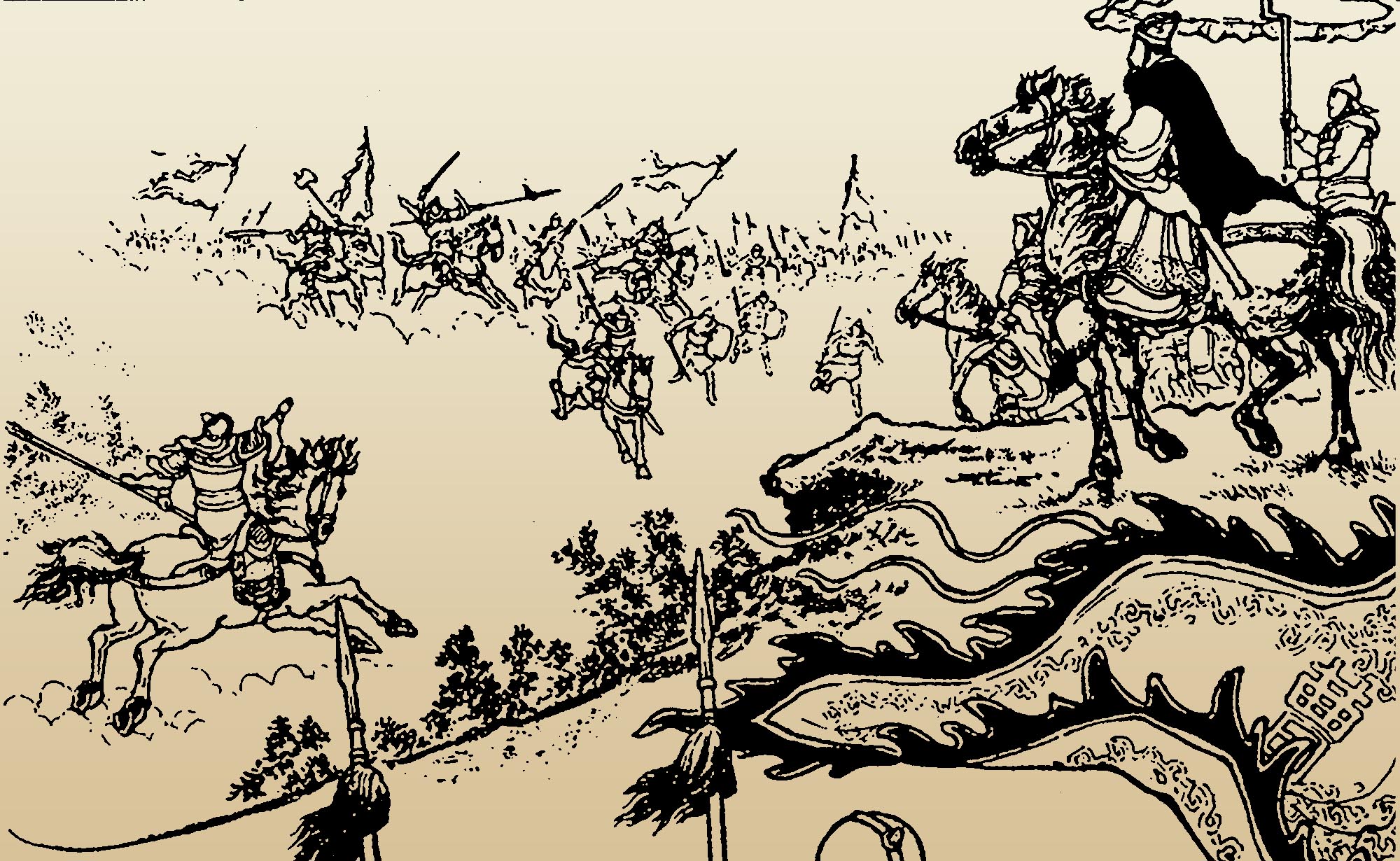 An awe that morphed into a yearning spread over Cao Cao's Napoleonic frame. "Bring that man to me alive," he commands. "A very tiger of a leader. We need men like him!" Whereupon he sent orders to his army that no arrows be shot at Zhao.
This order effectively shielded Zhao from failure. Against arrows, Zhao was only human, but he was invincible against men, ride what they would and wield what they could.
The Son's Return
With the baby still strapped to his bosom, Zhao finishes off his brilliant spree with the transportation of his 49th and 50th victims to meet Lord Yama of the underworld.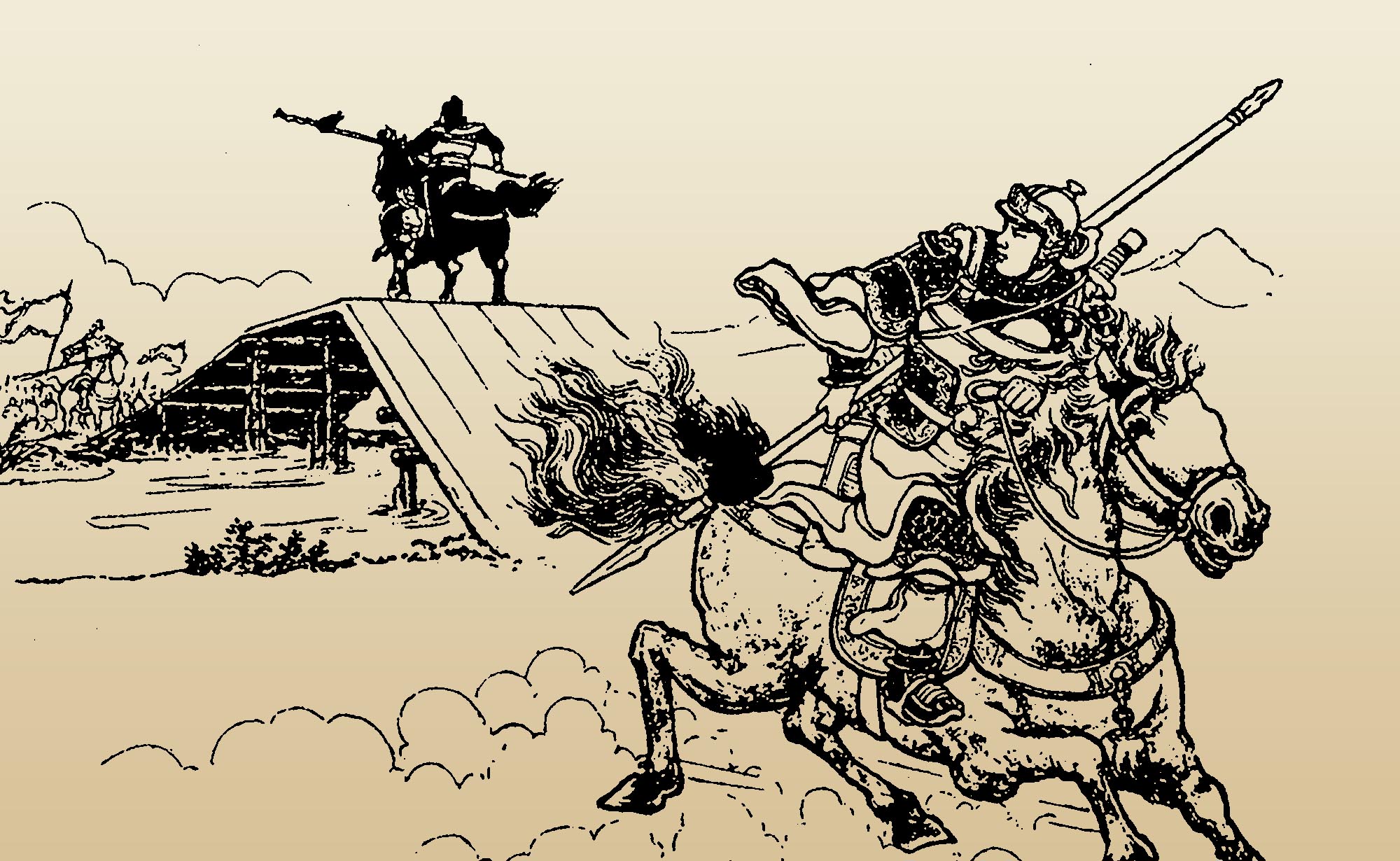 Zhao then crosses over the bridge behind which lies the safety of Liu's camp and, upon entering it, swiftly presents his lord with his only son.
"But your wife, my lord…," Zhao kneels before his beloved master, "I failed to rescue." As he bows down to the ground, the warrior's clothes are bloodstained and his heart is broken.
Liu wipes away a tear, then grabs Zhao with both arms and raises his loyal hero off the ground.
Shen Yun 2023's Riding Alone to the Rescue was choreographed by Christina Li and Chad Chen, with music by D.F. and arrangement by Jing Xian.