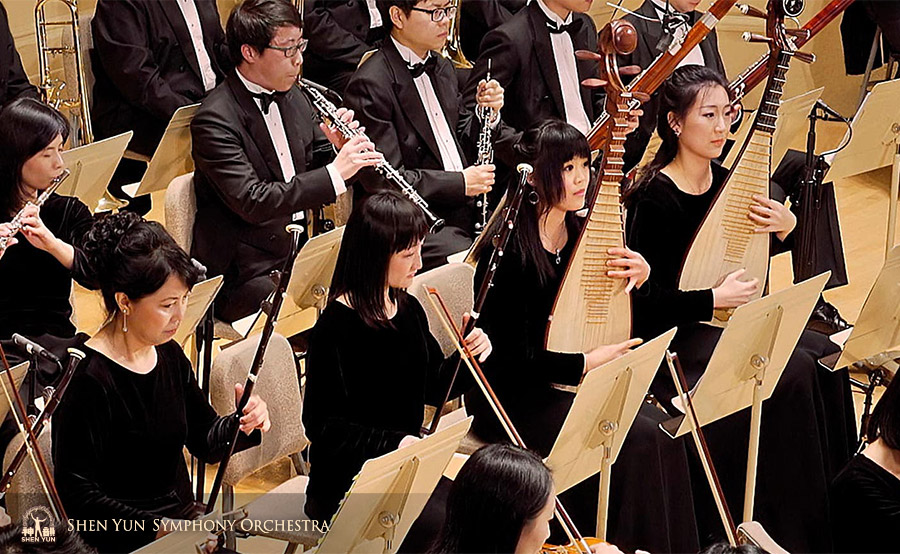 East-West Orchestra: A New Frontier in Classical Music
SHEN YUN IS OPENING UP NEW HORIZONS IN THE WORLD OF CLASSICAL MUSIC
Audiences are often struck by the rich and expressive sound of Shen Yun's East-West orchestra, and wonder how such a high level of cross-cultural harmony is achieved.
Click here for Shen Yun Symphony Orchestra tour & tickets.
In fact, the Shen Yun Orchestra is the first in the world to permanently combine classical Western and Chinese instruments, and in doing so, has opened up an entirely new realm in the world of classical music.
Innovative Arrangement Methods
Presenting and reviving China's authentic traditions using a Western symphony orchestra is no small feat. The artistic demands are high on the part of both the musicians and composers, and it involves interpreting Chinese musical styles on Western instruments.
Be it the use of the trombone to mimic the sound of the dung-chen (a very long Tibetan horn) or use of strings to capture the character indigenous folk tunes, the final musical experience is a result of informed imagination and collaborative effort.
The unique flavors of ancient Chinese instruments, such as the pipa and the erhu, also present a challenge when balancing with the rest of the orchestra. Since the sounds of these instruments are so distinct and expressive, they don't easily blend in with other instruments, and require use of special arrangement techniques by Shen Yun's composers.
Unique Capacity for Storytelling
Classical art forms are imbued with the capability to tell a story, capture a certain mood or character, and convey positive values. In particular, classical Chinese dance is extremely expressive, with external movement being driven by inner feeling. Shen Yun's all-original orchestral compositions are written to accompany classical Chinese dance, so the level of musical expression and storytelling also has to be high.
For example, a dance depicting warriors may have more brass and drums, while a piece with graceful court ladies would have a lighter melody, usually led by the erhu or pipa.
China's different ethnic groups and various dynastic traditions also have their own specific characteristics, and these need to be captured in the music. Historical anecdotes, legends, and real-life stories also require special consideration, which can involve the use of Chinese folk tunes, indigenous scales, and musical practices from different time periods.
With its unique combination of Western and Eastern instruments, as well as its special arrangement methods, Shen Yun is opening new horizons in classical music.