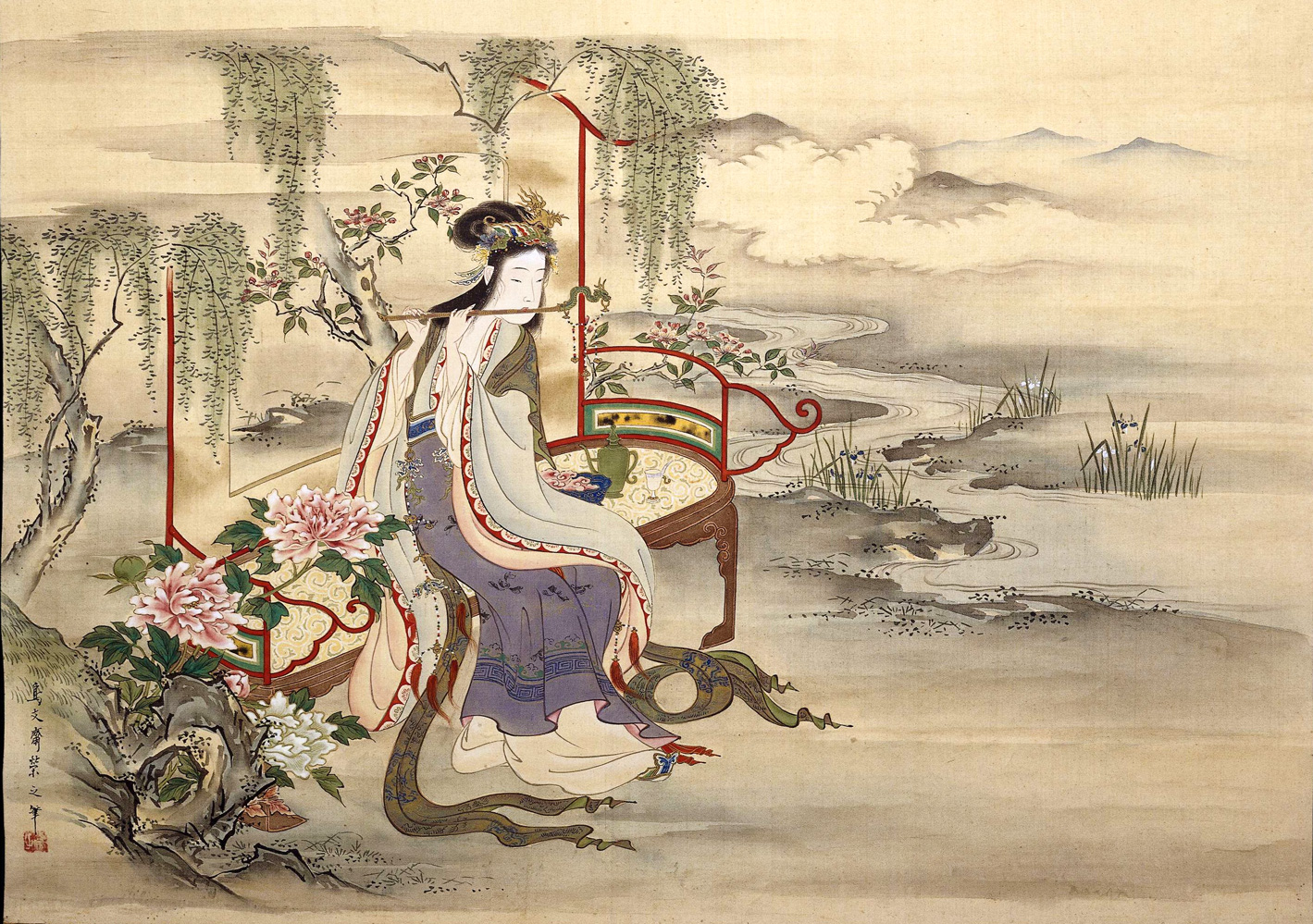 The Story of Lady Yang
During the early eighth century, the wise and talented Tang Xuanzong ascended the throne as the Son of Heaven. In the decades to follow, he worked diligently to reform and strengthen his empire, bringing Tang Dynasty China to unprecedented prosperity and power, making tremendous strides in culture and the arts.
The very first emperor of the Tang Dynasty had claimed ancestry from Lao-Tzu, the founder of Taoism. Likewise, Xuanzong was a devout follower of Taoism as well. Yet toward the latter years of his reign, the Taoist principle of "wu ji bi fan" (situations will reverse upon reaching an extreme) transpired. Imperial power weakened as ministers and generals gained sway, military campaigns ended in defeat, famine struck, and natural disasters wreaked havoc. Who was to blame?
One remarkable character in this historical episode became the subject of controversy. Lady Yang, the Emperor's favorite consort, was considered by many to be instrumental to the glorious dynasty's rapid decline.
Did the country really fragment all because of the beauty and influence of one imperial concubine? Or was she an easy scapegoat in a time of turmoil?

A Face That Bested All Flowers
When Emperor Xuanzong's closest consort died in 737, it seemed nothing could ease his melancholy. Then one day, destiny brought a new figure into His Majesty's world.
Lady Yang was said to have had hair like a flowing cloud and a face that put all flowers to shame. The emperor became enamored upon their first meeting. Thereafter, he found that he could not bear to leave her side.
In 745, Xuanzong gave Lady Yang the title of Precious Consort (gui fei), the highest rank for imperial consorts. He also conferred titles and honors upon many of her relatives, including her deceased father.
Lady Yang's days became filled with unimaginable splendor. As the pearl in the emperor's palm, she lounged with him in a gilded world, decked in jewels and flowing in lustrous gowns of silk.
But as they were wining, dining, and enjoying exquisite music and dance, trouble was brewing all around.
On the frontiers, generals far from the capital were growing more and more powerful. One in particular, General An Lushan, who had previously been on quite friendly terms with the emperor and his lady, amassed an army of 200,000 and rose above them all.
Meanwhile, court officials were bribing the Precious Consort's family members for personal gain. And protests arose that the emperor was neglecting his public duties while in Lady Yang's company.
Revolt, Retreat, Anguish
In 755, An Lushan mobilized his forces and stormed into northern China. As he made his way south, numerous locals joined his ranks.
By 756, the rebel army arrived outside the Tang capital of Chang'an. And Xuanzong, along with many members of his court and Lady Yang, were forced to flee further south on an arduous trek through the mountains.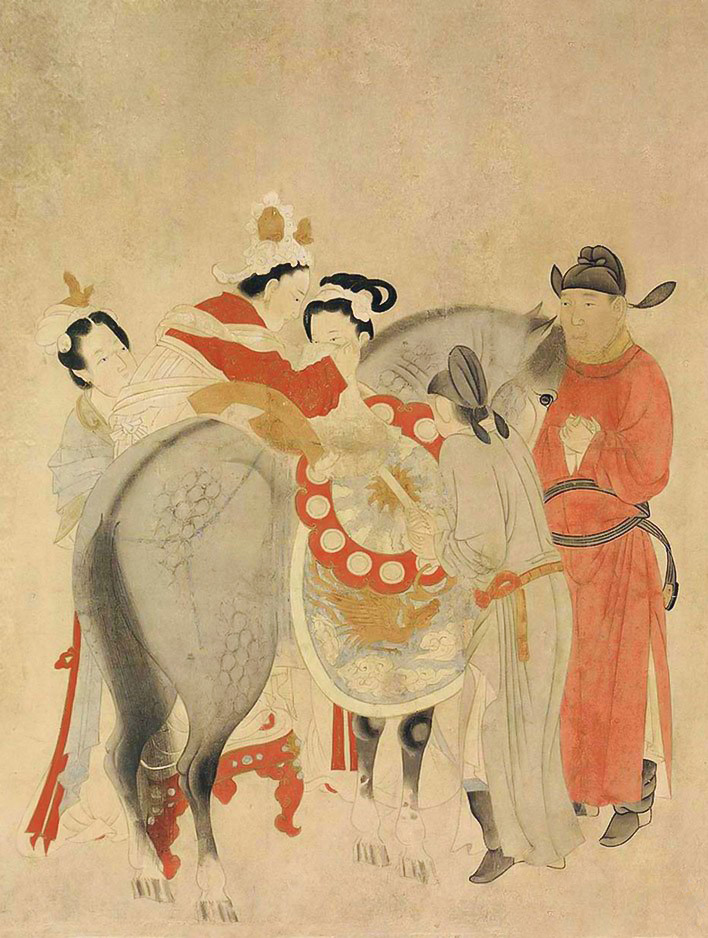 However, as they approached Mawei Courier Station, the exhausted and aggrieved men had enough. They entreated the emperor to do away with the Precious Consort—the "cause" of the entire nation's suffering. Without her death, they refused to carry on.
Left without a choice, the emperor… consented.
Wrapped in fragrances and purple silks, the Consort's body was buried by imperial guards beside the rugged road.
The Aftermath
As Tang Xuanzong's retinue sought refuge in the south, his son, the crown prince, ascended the throne. Upon receiving the news, Xuanzong stepped aside to become emperor emeritus. And when the new emperor recaptured Chang'an from rebel forces, an aged Xuanzong returned to the palace as well.
The former emperor spent the rest of his years in relative quietude. Yet the passage of time did nothing to dispel memories of his Precious Consort. Only after having a portrait of her commissioned, could he find a bit of solace by visiting the likeness daily.
Some renditions of this stirring tale tell of a visiting Taoist, who, pitying the heartsick emperor, offered to help him contact Lady Yang in the world beyond. When the Taoist locates her in a palace amidst the clouds, the lonely consort breaks apart her treasured hairpin and jewelry box—both gifts from His Majesty—and asks the Taoist to bring a piece of each back to the emperor as tokens of her enduring devotion.
History would go on to memorialize Lady Yang as one of ancient China's Four Great Beauties—women of extraordinary appearance and talent whose lives greatly altered the fate of the empire. Her story has also been eternalized by master poet Bai Juyi's Song of Everlasting Sorrow, as well as numerous literary, dramatic, operatic, and cinematic works throughout the millennia.
Shen Yun 2023's The Tang Emperor and Lady Yang is a classical Chinese dance rendition of this historic tale.